Dog had a raspy cough. The vet went right over him, x ray, blood tests and it was all a big mystery. Out of the blue the vet asked me to cough. I coughed…the dog coughed…I coughed…dog coughed again. Turned out the whole family had colds and the dog was trying to fit in.

— Vanessa Young (@vanessa_young56) May 31, 2022
Kristin Chirico asked people on Twitter to share their most embarrassing veterinary visit. It turns out that every pet owner has at least one story of rushing a beloved pet to an emergency animal clinic, only to find out everything is normal, or else your dog or cat is just acting up to make you spend big bucks at the vet. This one was from a few years ago, but it was reposted as legendary.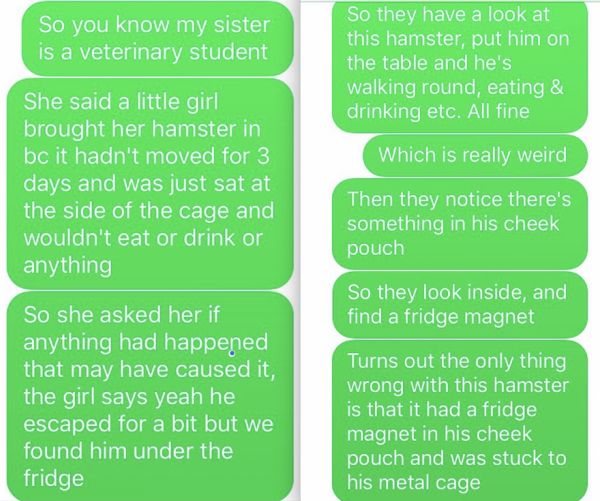 You have to feel sorry for the poor hamster. But this one can't help but make you laugh.
this is the winner

— 🌈 emilie ✨ (@emiliebarnard) June 3, 2022
You can read all the replies at the Twitter thread, or the 40 funniest in a list at Bored Panda.
Source: neatorama