By nature, large-scale murals demand that we pay attention to them — that we slow down and take a moment to absorb each part of their composition. For Madrid-based artist Guillaume Alby, better known as Remed, the mural is also an opportunity to explore spiritual connections and provide a transcendent experience for viewers.
Taking inspiration from artists like Modigliani and Léger — as well as calligraphy and math — Remed creates pieces that seem to come together like puzzles. Each part of the composition is carefully thought out, from the smallest to the largest element. Colors and shapes fit together just so, creating scenes that seem strange yet familiar.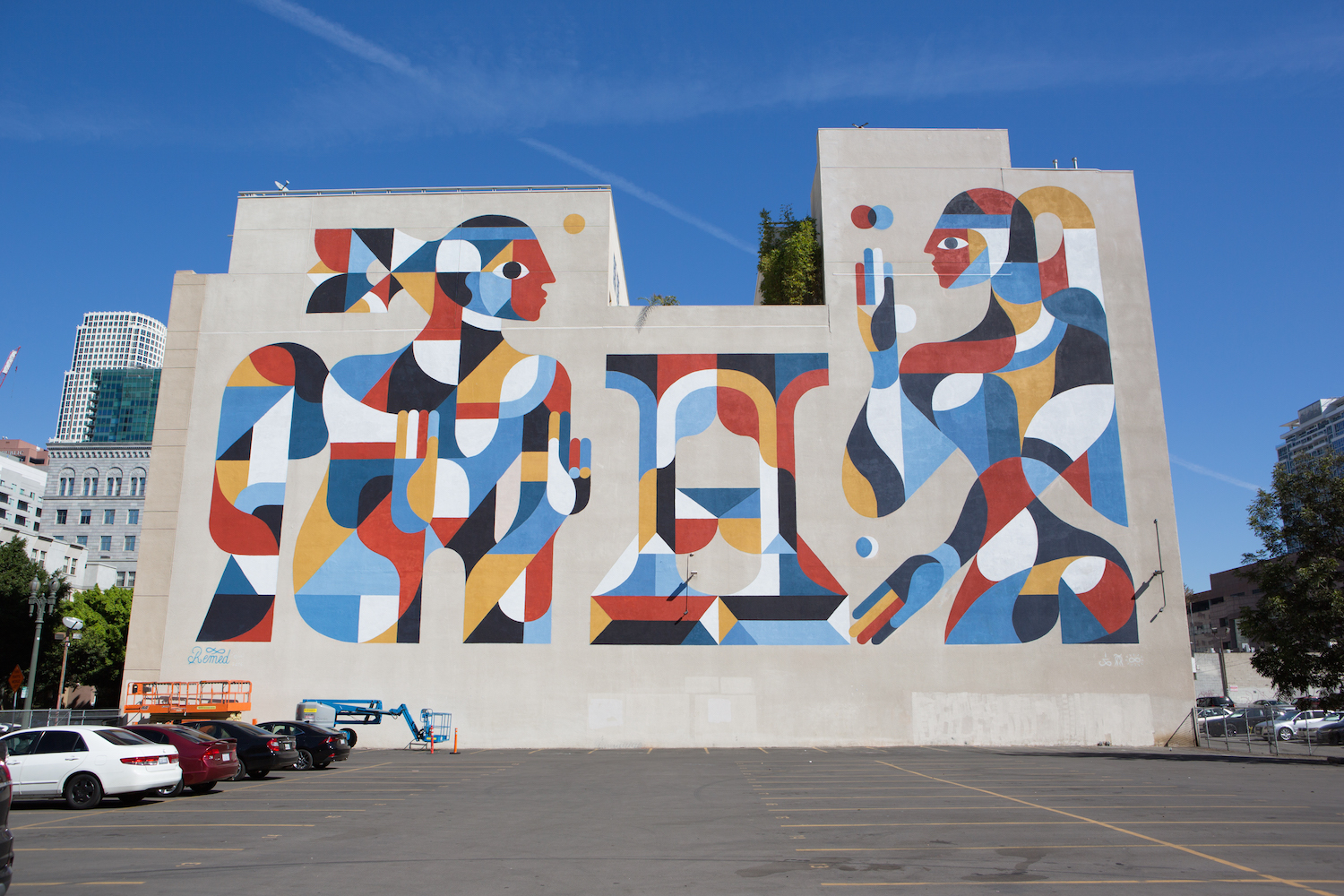 The artist recently completed a mural in Los Angeles (pictured above). Working on a tight timeframe, he only had a few days to plan the piece and deal with the logistics of permissions and the like. Amidst all the chaos, he managed to get away and find a "piece of horizon and serenity" in Echo Park.
"I knew very little about Los Angeles. I was frightened by its size and seduced by its name," Remed tells Creators. "I know there use to be indigenous people, probably some sacred places, and invisible energies. I know there is now a new skin above all—new temples, new symbols, new rituals. But still beyond confusing contrasts or apparent order, a lot of energy fields crossing each other, a global encounter, many spectators and many actors from diverse roots, a wide potential of perspective, of future or remembrance, of universal creation."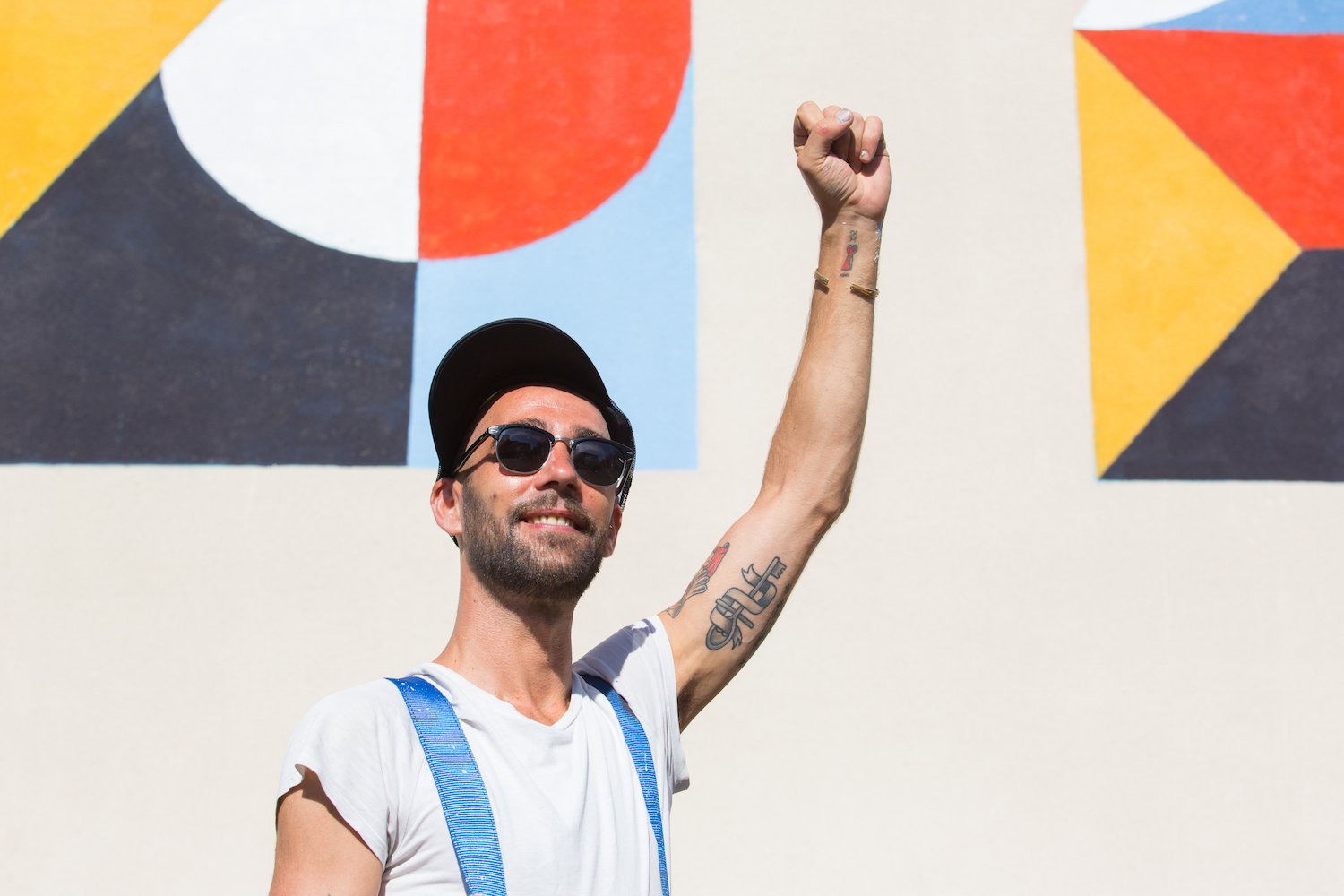 He ultimately took inspiration from a statue nearby, which inspired one of the figures in his piece. Another figure frames "a gateway" that invites the viewer to "dive in the depth and heights of a timeless horizon, a bridge to endless perspectives."
Remed follows this style and philosophy in both his large-scale murals and canvas pieces. Many of his works depict abstracted human figures; he addresses human relationships, spirituality, and more.
"Because I do not always know exactly what I want to represent, and because I do not always find figurative elements to complete a whole composition, I sometimes just let my hand wander with lines and curves through the use of intuitive geometry," Remed says.
Sometimes the entire composition comes from a small spark—a certain symbol that informs the rest of the piece. "Usually I just draw the first element I feel connected with and use it as a seed and a reference for the next lines and shapes to come," Remed says.
His murals encourage the viewer to root themselves in the present—to take a moment to themselves—but to also consider the realms beyond the reality in which they're situated.
"Again, I do not always control what my art holds, but my intention with murals is to offer peace and harmony," Remed says. "Sometimes it does open a conversation. The message I give did not came from a mental reflection but from genuine intuition as the guideline of the process. I only find some of the words to define the experience and result now."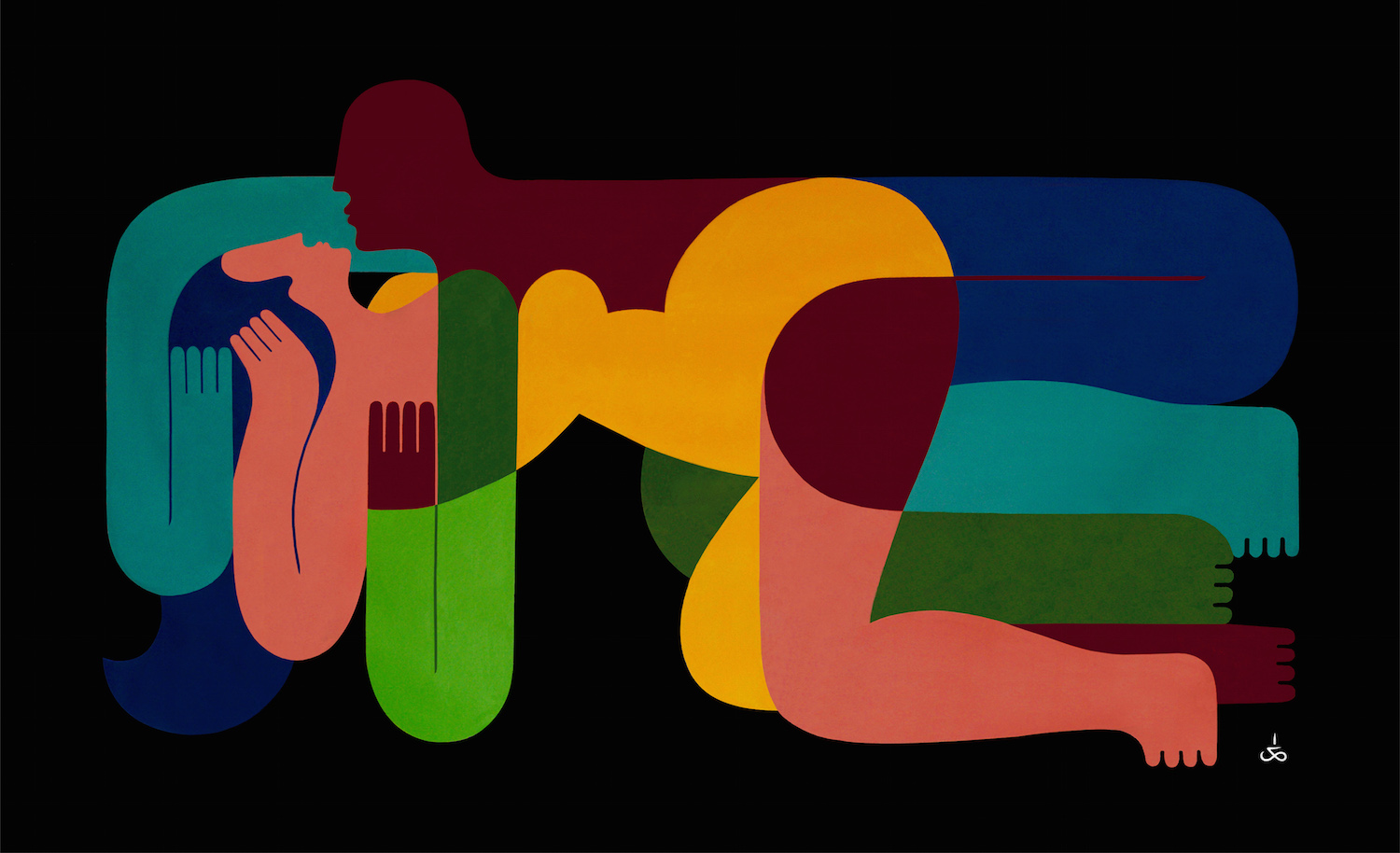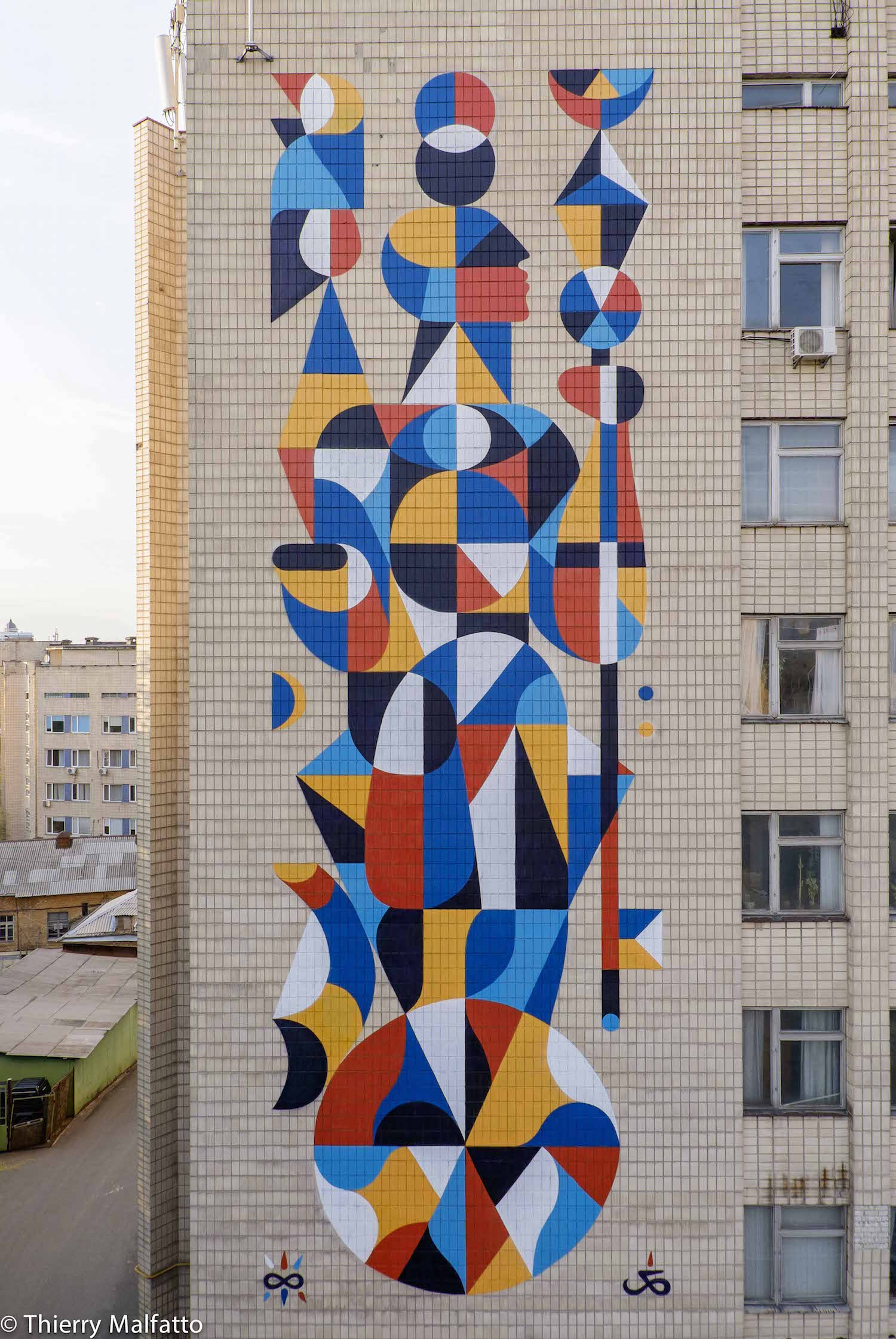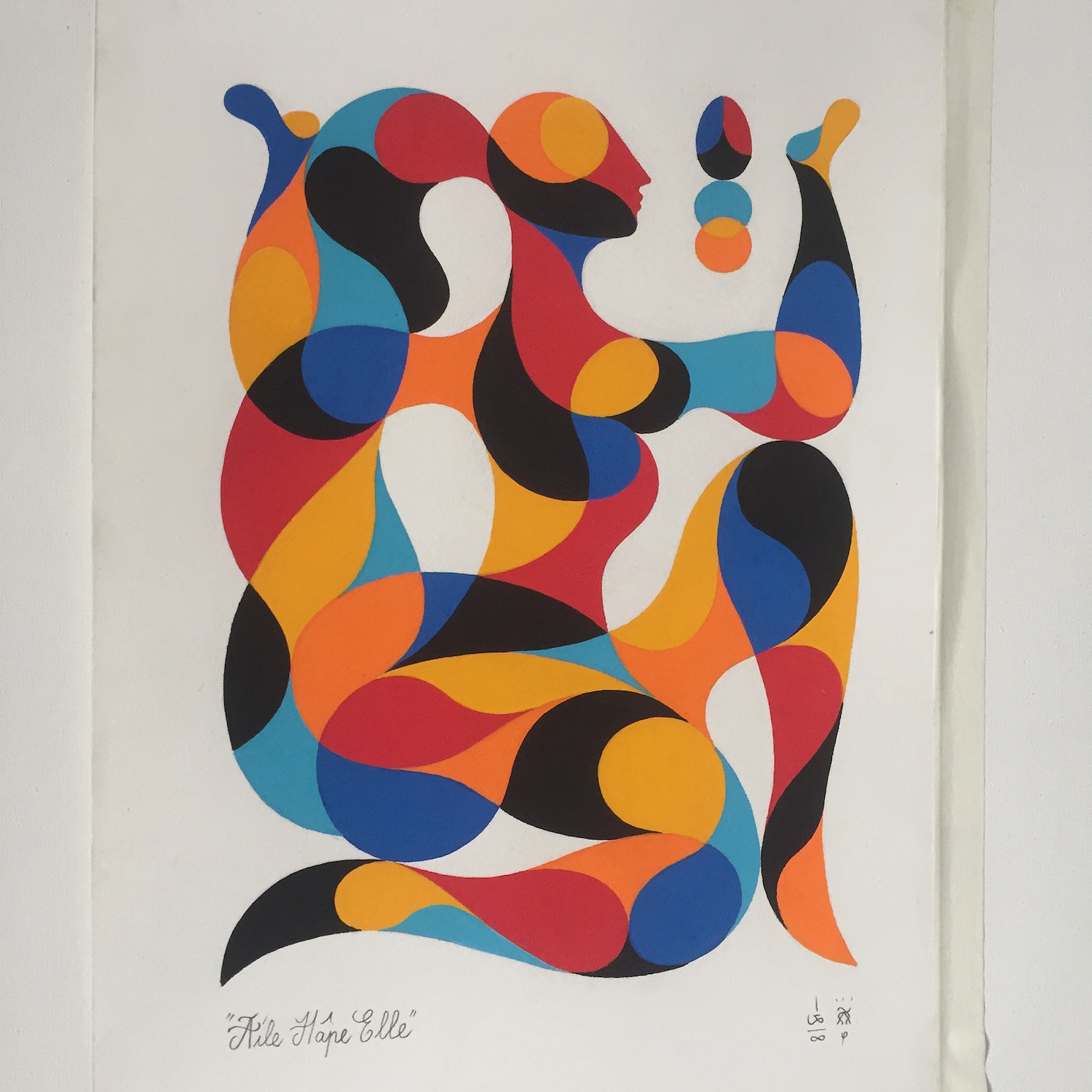 To learn more about Remed's work, click here.
Related:
Graffiti Meets Oil Painting in Stunningly Realistic Murals
A Modern-Day Cubist Examines Warped Beauty in his Murals
Graffiti Meets Japanese Folk Art in Colorful Multimedia MuralsBright Murals are Portals to Spiritual Experiences
Source: vice.com