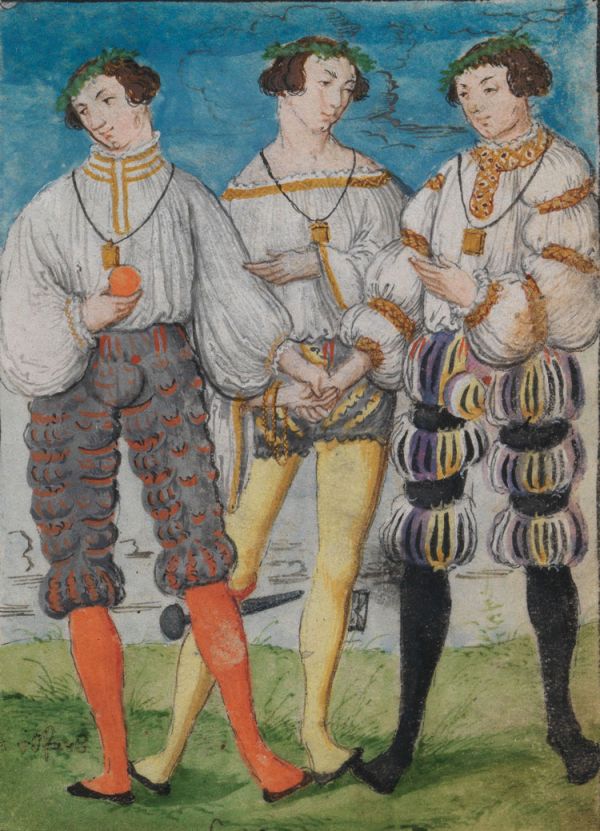 Matthäus Schwarz had a passion for clothing, particularly any historical fashions he could find documentation on. That wasn't much in 1520 in Augsburg, Germany. Schwarz began to document his own garments at age 23 by hiring an artist to illustrate them, a practice he continued until he was in his 60s. The result is a handmade manuscript with 137 illustrations of Schwarz modeling clothing. A fashion diary that required so much work might seem to be the ultimate in self-obsession, but the result gives us a glimpse into the clothing of the 16th century. Ulinka Rublack, who co-authored the book The First Book of Fashion: The Book of Clothes of Matthäus & Veit Konrad Schwarz of Augsburg, tells us about the unique Matthäus Schwarz and the fashion book he left behind.
Today, Schwarz's outfits might seem impractical and outlandish—from the close-fitting, padded jackets known as doublets to his tight pants or hose—but he was certainly on trend for the time. "I don't think he was an eccentric, since his wardrobe was closely oriented in terms of cuts and styles with what aristocratic or upper-middle-class people wore," Rublack says. "But within that framework, he was also innovative: I think Schwarz would have been known as someone who communicated his passion for fashion. For instance, when he ordered a new gown, he could be very inventive in terms of how the gown was cut—one sleeve might be different from the other, and he is often shown with his arms stretched out so that you can appreciate the experimentation that's gone into a design.

"That was also very clear when he went to weddings, a real event to dress up for," she continues. "You'd wear new, brightly dyed clothes to make a real impression, and he was often with a group of men who went together and chose an outfit to wear as a group. In that sense, it tells us that these styles were shared as well." Schwarz was clearly enamored with the popular Germain tailoring techniques of "slashing and pinking," used to give a garment additional texture by adorning it with patterns of long slashes or small cuts, often lined with contrasting fabric. "Schwarz was also interested in bringing in some traditional details, like old Franconian embroidery," Rublack adds. "For me, that's the Renaissance spirit—it's not just about ingenuity and innovation, but a respect for the past."

Despite wearing garments that appear almost comical today in their complexity, Schwarz's lived experiences, as explained through his handwritten captions, are surprisingly relatable. His descriptions include everything from comments about his weight to the youthful hubris of his teenage years, of which he writes, "In my mind, I was a bad ass." One entry from 1521—showing Schwarz in a wide-brimmed bonnet over a red wool coif—includes a later addition that says simply, "I had a terrible headache." Other pages include more consequential notes, such as the caption referencing a major outbreak of the plague, which reads, "On the 20th August, 1535, when people in Augsburg began to die."
Take a look inside the book and learn about the self-made fashion model Matthäus Schwarz at Collectors Weekly.
Source: neatorama