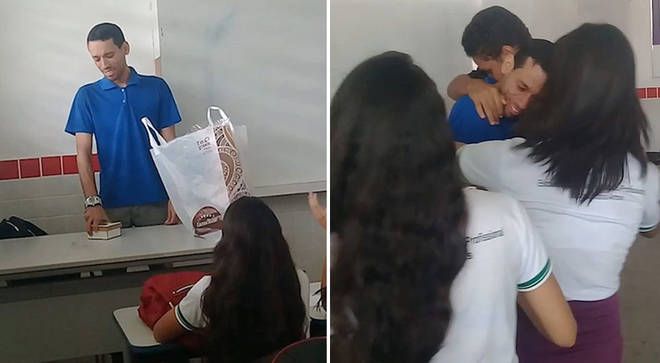 Brazil — Bruno Rafael Paiva has had it rough. It has been two months since the government ceased to pay him, and this has led him to a point that he had to sleep at the school where he works as the substitute music teacher. When his students found out about his plight, they decided to help him in a little way.
As Paiva enters the classroom, the children encourage him to play a game of "hot and cold", making him walk around their desks in search of a hidden box.
Finally, he arrives at his desk – and upon opening the box, is stunned to discover $400 Brazilian dollars (about £84). About two-thirds of his usual monthly salary, the generous gift was received with pure emotion.
Watch the touching clip over at Classic FM.
(Image Credit: Uzian Pinto/ Facebook/ Classic FM)
Source: neatorama