For several years, Lisa Ellis, Conservator of Sculpture and Decorative Arts at Art Gallery of Ontario, wanted to turn her collection of micro-CT scans—technology that has, for instance, allowed people to peer inside mummy coffins—into a virtual reality experience. So, when she and fellow AGO conservator Sasha Suda organized Small Wonders, an exhibition of incredible small and intricate Gothic boxwood miniatures, Ellis felt that she finally had the perfect subject for a virtual experience.
In Small Wonders: The VR Experience, now at Met Cloisters in New York City, visitors are presented with one of these boxwood carvings—created some 500 years ago by an unknown artist—that is blown up to a much larger proportion. It can be exploded and collapsed, and participants are free to walk in and around it. The incredibly small details are now large enough that viewers can see just how this artwork, which depicts Heaven and Hell, was carved and assembled into a sphere that opens like a locket.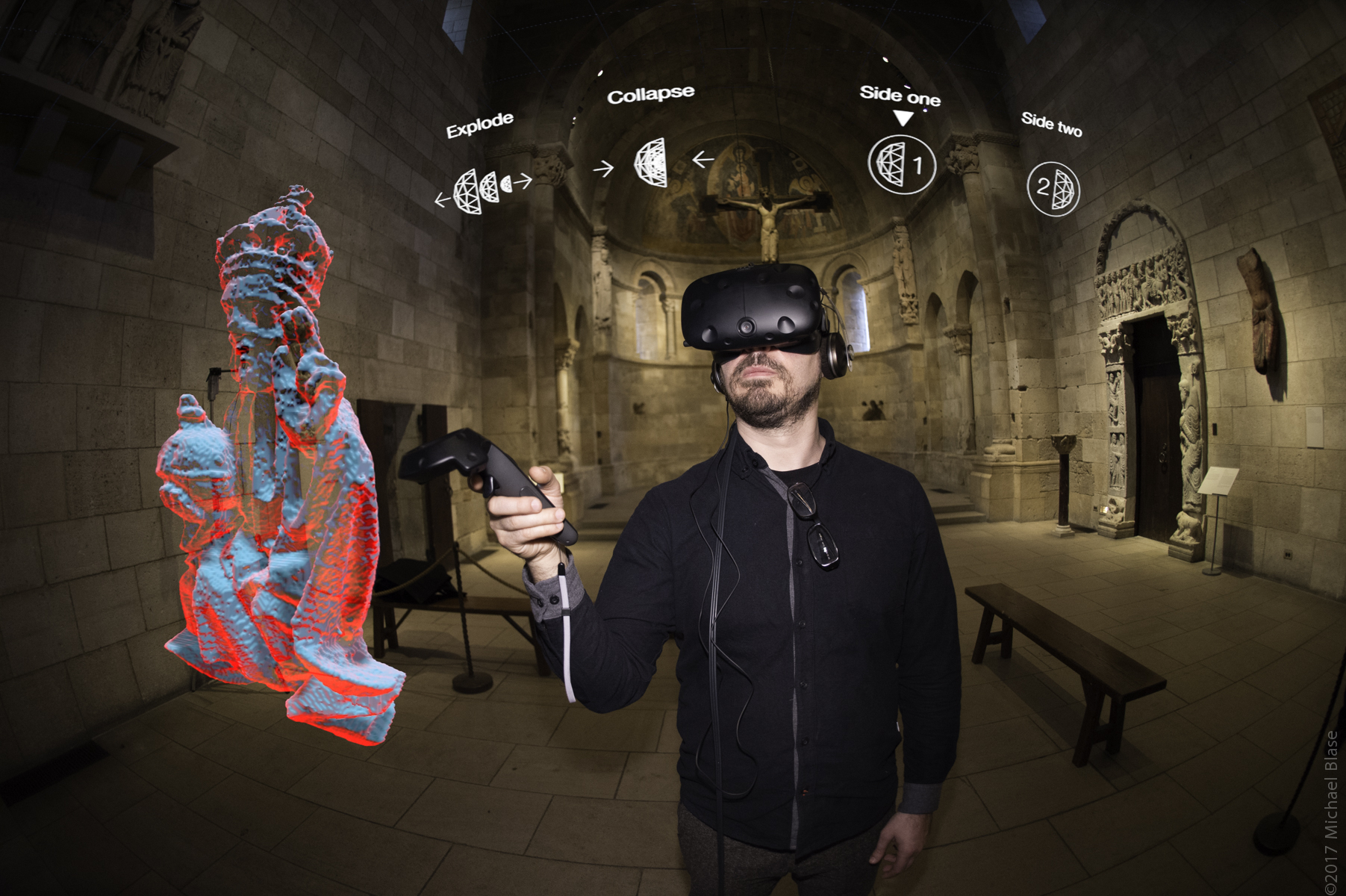 The VR simulation of the boxwood sculpture is interesting on its own, but to fully understand what is being seen virtually, viewers should visit AGO's exhibition of boxwood carvings. At The Met Cloisters, visitors can look at 60 carvings from museums and private collections across North America and Europe.
To create the VR experience, Ellis reached out to the Canadian Film Centre (CFC), whose Chief Digital Officer, Ana Serrano, recommended Priam Givord, a VR Creative and Technical Director at Seneca College's School of Creative Arts and Animation. Givord, a former industrial designer , tells Creators that he thought the Small Wonders: The VR Experience was a great way to make a virtual texture seem almost real.
To create the VR experience, Givord input Ellis's 3D scan of the carving into TouchDesigner. (The scans were made with a micro-CT scanner at the Department of Sustainable Archaeology at Western University, then rendered and segmented using advanced 3D analysis software.) Using the Vive headset, Givord decided to virtually blow up the carving scan so that it was massive: something that viewers could inspect closely by walking around and passing through it, as opposed to sitting down passively and staring at it.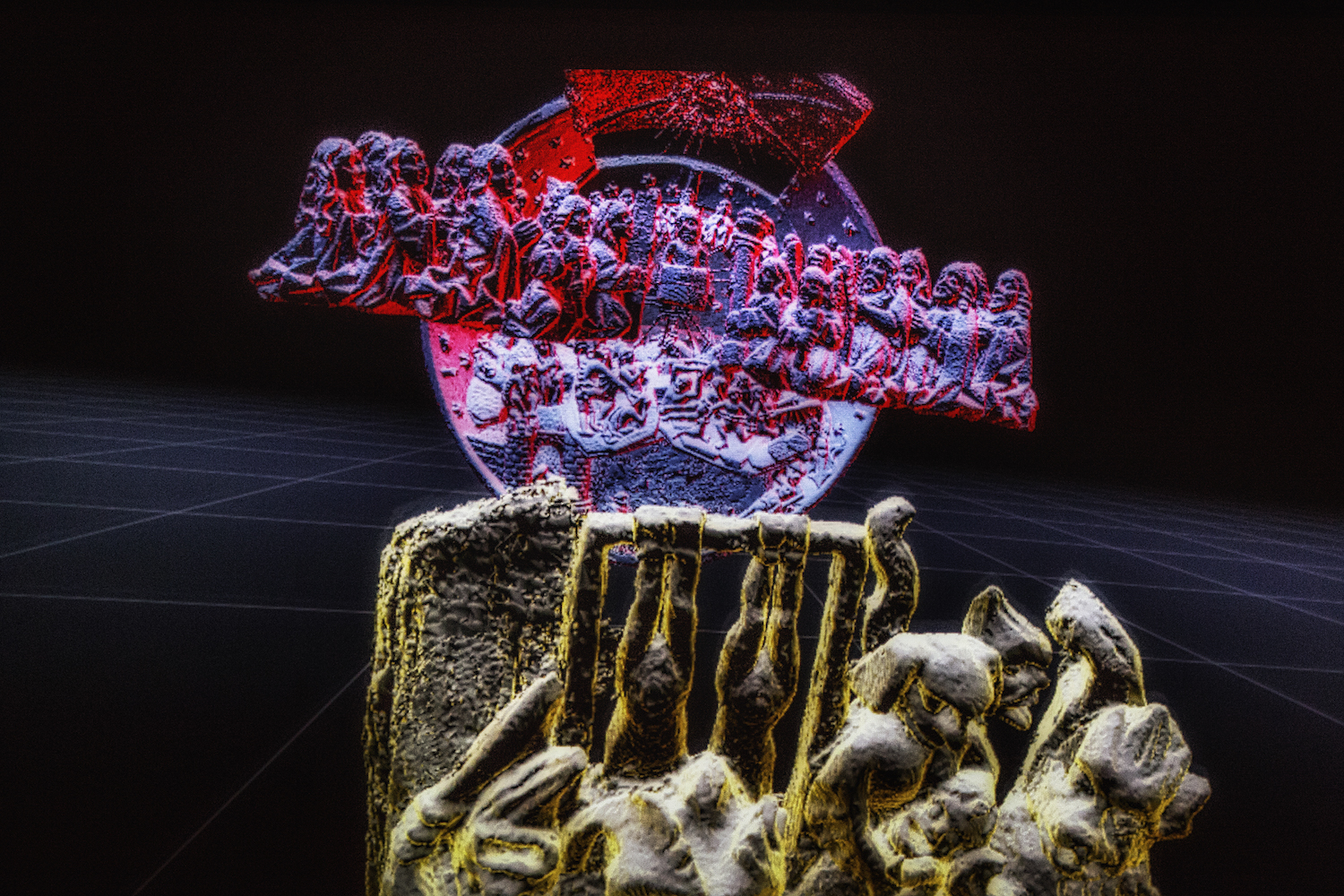 "It looks like you're in the natural, organic layers of something, and it has its own grain," says Givord. "I felt that because it is a material, because it is so attractive in a way, you want to be able to zoom into and get into that grain with your body."
To achieve this effect, Givord started judiciously adding light, shaders, and colors, as too much of it would strip the grain from the virtual simulation. The work he did in TouchDesigner is so detailed that as viewers walk in and around the virtual boxwood carving it appears to glitter. Adding to the VR experience is a soundtrack by Treasures of Devotion: Spiritual Songs in Northern Europe 1500-1540, which are monk-like chants that fit well with the subject matter, but also The Met Cloisters' contemplative exhibition space.
"One side of the carving is the coronation of Mary, and the other side is the Last Judgment," says Givord of the boxwood miniature. "It's super insane that we don't know of any workshop, but at the same time there is so much craft."
So, while Small Wonders: The VR Experience isn't going to illuminate much about the craftsman or craftswoman, it does give visitors a better sense of the craftsmanship. It also introduces the masses to a little known type of Gothic art and craft. "Everyone is searching for that sublime encounter one can only have in VR," says Serrano. "With the boxwood miniatures and their high-resolution scans, we have found the perfect, transcendent landscape to explore in this medium."
Small Wonders: Gothic Boxwood Miniatures and the accompanying VR experience run until May 21st at Met Cloisters in New York City.
Related:
CT Scans Reveal the Youngest Mummified Fetus Ever Found | Conservation Lab
Painting Cover-Ups, Exposed! | Conservation Lab
Microscopic Slivers of Artworks Reveal Hidden Truths | Conservation Lab
Source: vice.com