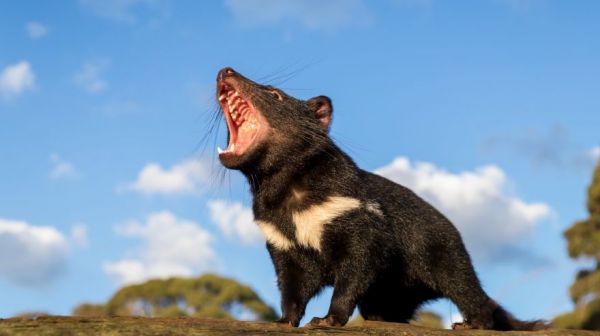 The Tasmanian devil is the largest carnivorous marsupial in the world since the thylacine went extinct in 1936. While Tasmanian devil fossils have been found in Australia, for the past 3,000 years the animal has only existed in the wild on the island of Tasmania. Until now. A group of devils has been relocated to the mainland in hopes they will thrive again.
The cause of Tasmanian devil's disappearance from continental Australia is murky, with some evidence tying it overhunting by Indigenous Australians. Other signs point to the introduction of the dingo. Whatever the case, Monday's news is part of an effort to bring the Tasmanian devil back to its former range. Aussie Ark, the group leading the reintroduction, has released 26 devils into a sanctuary in New South Wales near Barrington Tops National Park.

The sanctuary is enclosed and covers nearly 1,000 acres, giving the devils space to roam without impacting native wildlife outside the area. Each marsupial has been outfitted with a radio collar, and camera traps dot the sanctuary. That will allow scientists to study them in a somewhat controlled setting to see how they fare and interact with other wildlife.
Tasmanian devils are endangered, and disease has ravaged the population in Tasmania. It is hoped that the imported animals will be able to avoid the devil facial tumor disease on the island. Aussie Ark also hopes that the re-introduced devils may help to control the feral cat population. Read about the Tasmanian devils and their new home at Gizmodo.
(Image credit: Aussie Ark)
Source: neatorama