There are those people that crave over the top, bright + bold environments to live in, and then there are those that prefer their spaces to be classic and timeless, i.e. black and white. Black and white spaces are dramatic, modern and sleek, never going out of style, instead living through trends as they come in and out of favor. The contrasting color scheme makes any room feel clean and dynamic, whether you're living in a modern home or a traditional farmhouse. Layer in smaller elements like black and white textiles or go big with a graphic, black and white wall mural – either way, you'll love living with this classic palette.
If you're renting your current place or plan to in the future, you know how frustrating it is not to be able to fully make it your own. Some landlords do not allow renters to paint or even hang things on the walls, much less install wallpaper, leaving many to coexist with beige walls until it's time to move out. If that sounds torturous to you, check out Tempaper as they make peel-and-stick wallpaper – meaning you can easily pull it off without damaging the walls at the end of your lease. The brand offers easy-to-follow instructions (including videos!) on how to install the wallpaper, as well as how to take it down, making it a no brainer when it comes to decorating in the short term. Even if you own your place or have no plans to leave anytime soon, Tempaper is a great option if you like to change things up in your living space fairly often. They have a zillion patterns, from retro to glam, along with collections from Bobby Berk, Cynthia Rowley, Genevieve Gorder and the Novogratz – basically, something for any space and taste. Since we're exploring black & white color palettes this month, we thought it was the perfect time to share some of our favorite patterns in that color scheme. Except for Swell, the patterns below are designed by Bobby Berk, which is no surprise as we love his aesthetic!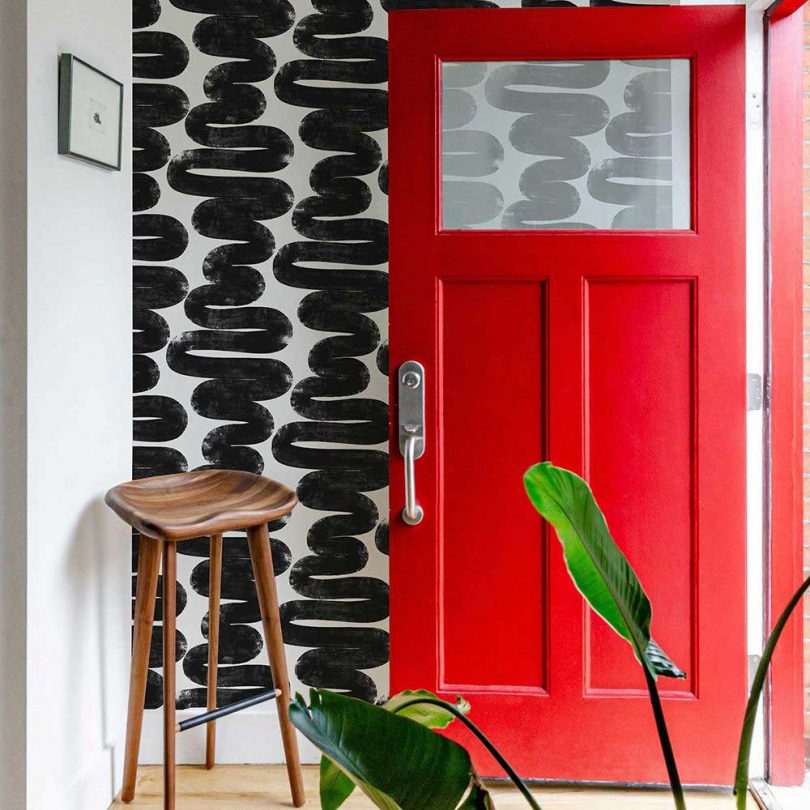 Wiggle Room
We're starting out super bold with this design! Featuring a thick brushstroke of black paint that winds its way back and forth to create the graphic squiggle pattern. It feels like someone actually took a paint brush and went to town, thanks to the unevenness of the brushstroke.
Dazzle
Dazzle is an energetic print that will add boldness to any space. Varying white lines on a black backdrop are deconstructed and collaged back together to form the random pattern. The geometric design makes the perfect dynamic backdrop for minimalist furnishings.
Shift
The boldness may be dialed back but Shift is still dramatic with its striking black stripes. The modern pattern looks to have hand-drawn lines that give it an organic feel while still appearing expressive.
Swell
This black and white pattern gives nod to sand dunes and ocean currents with its hand-drawn, swirling pattern. Curves running in different directions guide your eyes around the design, holding your attention as you think of waves and monochromatic rainbows.
Eye See You
This eye-catching pattern might be a little more understated than some of the above but it's equally dynamic. The simple black eyes appear hand-painted with just a brush and some black paint while still providing lots of visual interest.
For more Tempaper designs, visit tempaper.com.
This post contains affiliate links, so if you make a purchase from an affiliate link, we earn a commission. Thanks for supporting Design Milk!

Source: design-milk