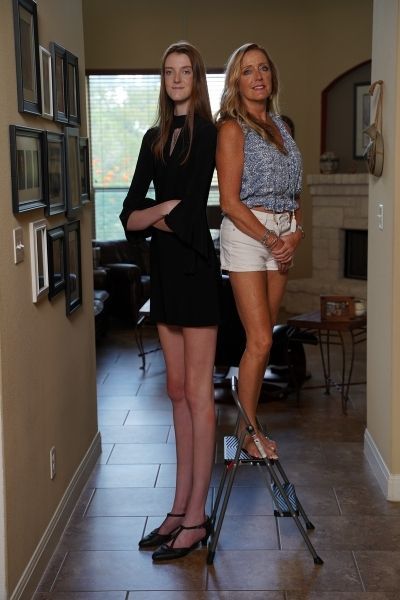 Maci Curran is 17 years old, and she is 6′ 10″ tall. She will be included in the next edition of the Guinness Book of World Records for having the longest legs of any woman, and the longest legs of any teenager.
Her left leg measures 135.267 cm (53.255 in), while her right leg measures 134.3 cm (52.874 in).

Maci's family, from Cedar Park, Texas, are relatively tall but none of her other siblings or parents quite match her height.  

Standing at 6 ft 10 in tall, her legs actually make up 60% of her total height! She wanted to go after this record title to inspire tall people everywhere to embrace their height.    
In the picture above, she is standing with her mother, the only one in the family who isn't tall. She has always towered over her classmates, which gives her an advantage on her high school volleyball team. Read about Curran and see a video at the Guinness World Records site. -via Boing Boing
Source: neatorama