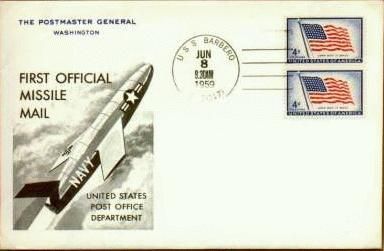 In June of 1959, the US Postal Service, in conjunction with the US military, shot 3,000 letters from a submarine across 200 miles to a Naval Auxiliary Air Station in Florida. The letters were all the same, since this was a demonstration intended to show the Soviet Union how accurate American missiles were. But it was far from the first time folks attempted to deliver mail by rocket.
For example, in the late 19th century in Tonga, residents of the island of Niuafo'ou decided to try using Congreve rockets to send and receive mail. You see, the island's lack of beaches and harbour, as well as the presence of the second deepest oceanic trench in the world, the Tonga Trench, right next to it (making it impossible to anchor), meant getting mail from ship to land wasn't something regularly done, despite ships frequently passing by.

The ultimate solution to leverage the existing ship traffic here for sending and receiving mail was simply to have ships drop cans containing mail into the water and then blast their horns as they passed by. Strong swimmers would then swim out to try to collect the cans before the current did. Likewise, the swimmers would carry messages from the island out to the shipping lane to drop off, with the canned letters picked up when the ships passed. This all eventually earned Niuafo'ou the nickname of Tin Can Island.

But before they earned that moniker, they decided to go with the Congreve rockets, which is definitely a missed opportunity here in terms of a more badass nickname.
Mail delivery by those Congreve rockets was discontinued for the same reason other plans failed- the rockets were unreliable and not all that accurate. By the time missiles were accurate enough to do the job, we had planes going to all parts of the world anyway. Read about the many plans and projects to deliver mail by missile at Today I Found Out.
Source: neatorama