Wedding season is back – which means there's a fair chance that you've either been invited to a wedding or are about to get married yourself. For wedding attendees, finding the perfect gift for the happy couple is notoriously tough, especially if all the good gifts were quickly snatched up from their registry. You want your wedding gift to be thoughtful (because we can all do better than a gift card), something that conveys your gratitude for the invite, and that'll help set the happy couple up for success in their new chapter. For soon-to-be-married couples, putting together a registry can be a challenge too – with all of the chaos of wedding planning, you (understandably) might not have the time or the brain space to think about what you and your spouse would like to receive on your wedding day. Case in point, it's always helpful to have a wedding gift guide like this one on your side. Whether you're shopping for a soon-to-be-married couple or are in search of gifts to add to your registry, we've hand-picked the best modern and design-forward wedding gifts to make it easy. You can always find more wedding gift ideas in the Design Milk Shop!
Le Creuset cookware is an iconic wedding gift for a reason, and this frying pan set is sure to last a lifetime in your newlywed's kitchen. Made with a triple-reinforced PFOA-free coating, these classic frying pans are designed with safety and strength in mind, so you can brown, sear, and sauté to your heart's content – with or without oil! Safe to use with metal utensils, to finish off dishes in the oven, and to toss in the dishwasher when all is said and done, there's no going wrong with these classy fry pans.
$170 (27% off!)
Shop Now >>
Of all the kitchen appliances you could give or receive as a wedding gift, the Beast Blender is well worth the coin. Its sleek, modern aesthetic sets it apart from other blenders on the market, pretty much guaranteeing that it won't sit in a box collecting dust in the newlywed's pantry. And the functional, high-tech features like the intuitive minute-long blending cycle and internal monitors that adjust blade speed, ensure a smooth blend every time. The included Hydration Bottle is a practical bonus, perfect for bringing your Beast creations with you on the go.
$185
Shop Now >>
For a budget-friendly wedding gift, check out this modern set of wine accessories. Complete with everything you could ever need to uncork and store wine with ease – a compact lever corkscrew opener, wine pump for pumping air out of your wine bottles, foil cutter, and a couple of vacuum stoppers – this highly giftable set is a fun and practical addition to any couple's kitchen.
$85 (35% off!)
Shop Now >>
For the couple who always chooses sparkling, treat them to wedding gift that'll take their sparkling water habit to a whole new level. Enter the aarke Carbonator 3 Starter Kit – a luxury water carbonator that delivers crisp and refreshing seltzer with a simple pull of the lever. The high-end, stainless-steel body adds a modern, minimalist look to your countertop and is sure to be a functional fixture to the newlywed's kitchen decor. Plus, the included CO2 cartridge and reusable aarke water bottle mean the happy couple can enjoy their gift right away without scrambling for additional parts.
$259
Shop Now >>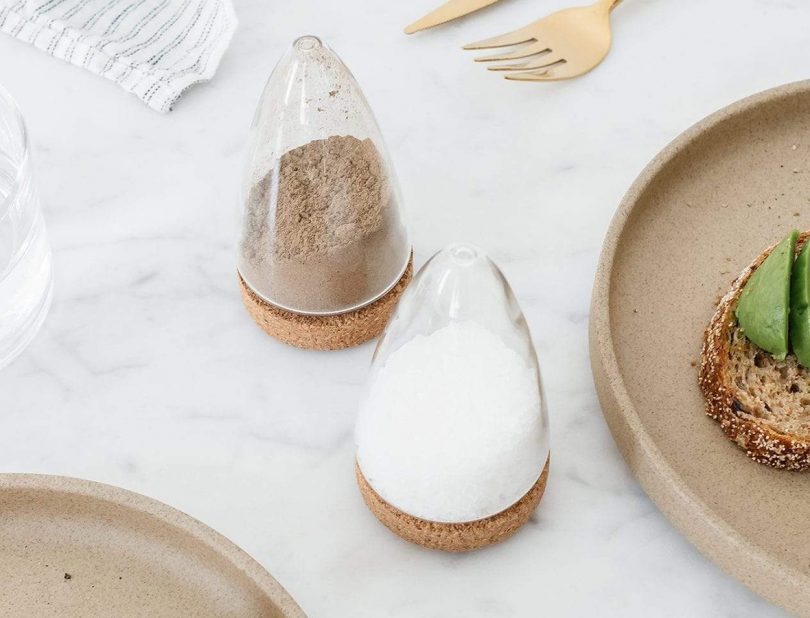 Designed by Ka-Lai Chan for Puik, these funky, space-age salt and pepper shakers bring a unique, modern look to your tabletop. A stylish upgrade to the traditional shaker form, these conical tabletop accents use a tactile combo of glass and cork for an eclectic, playful look. They're just the kind of wedding gift that'll make its recipients smile!
$41
Shop Now >>
Bath linens are a fixture on most wedding registries, but this Luxe Bath Towel Set by Slowtide is the best of the best. Made of a cushiony soft, sustainably-sourced cotton that's as absorbent as it is comfortable, these bath towels have a lush feel that's practical for everyday use. The drawcord loop allows for easy drying, and the woven details on the ends make for a special touch. We recommend the crisp white color way for a classic, modern look.
$100
Shop Now >>
Inspired by the retro look of vintage hexagon tiles and signage, this whimsical floor mat by Letterfolk lets you create a custom greeting with the included tile caps – just stick your caps onto the mat to create a design that's all your own. This would be a cute wedding gift idea for creative newlyweds who love to express themselves through their decor, or just moved into a new home. They can use it anywhere – from their entryway to the kitchen and bathroom, too!
$75
Shop Now >>
Not only does the wavy shape of this littala vase play with the curved design movement we're obsessed with, it's also an iconic piece of design history. Alvar Aalto designed the original vase collection in 1936, and its statement-making, organic shape has lived on to be a staple of Scandinavian design ever since. Any couple will love the casual yet elegant look of this wavy vase and flexibility it brings to floral arrangements – arrange small clusters of flowers in each of its curved nooks for a cool, subtle look, go flower free to let the sculptural shape shine, or fill it with a flourishing floral bouquet.
$135
Shop Now >>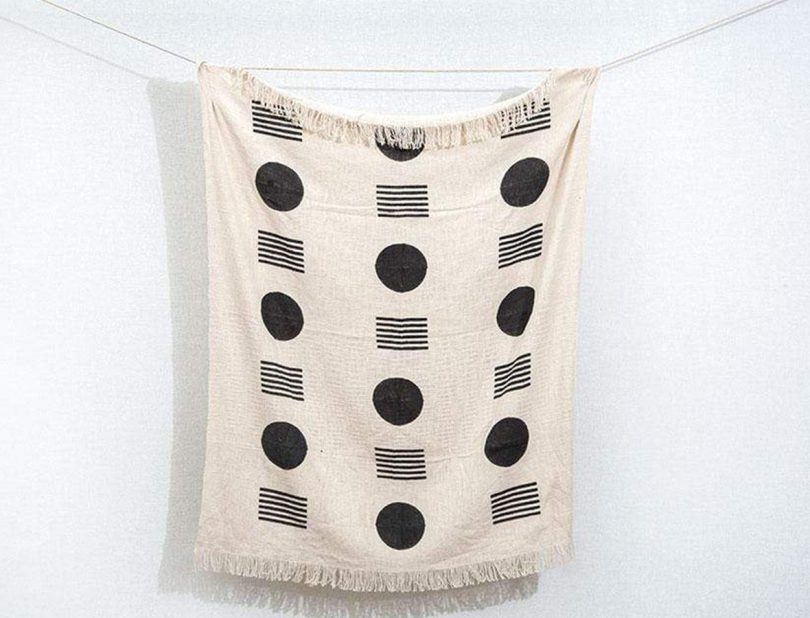 Everyone loves a throw blanket as a wedding gift, and this hand-printed throw by Casa Amarosa is sure to keep your newlyweds warm and cozy. Ethically made by master Indian artisans using pure cotton, the Celestial Throw has a plush, soft feel that's not too heavy for year-round use. The minimal, color-blocked design adds a modern, graphic touch to your couch or bedspread, while the neutral tone of the cotton gives it a more natural look.
$99
Shop Now >>
A durable, well-made cutting board is an invaluable kitchen tool to have, and the Versus Boards are even more essential thanks to their modern, flexible design. The 3-piece board set can be used individually for chopping, dicing, slicing, and serving, or aligned along the diagonal edges for a monochrome or contrasted presentation. The smooth curves on these cutting boards make this set a unique addition to any registry and a coveted gift for any happy couple.
$173
Shop Now >>
These stylish oven mitts are guaranteed to get use in any married couple's kitchen. Starring a bright, confetti design that recalls the fun and playful aesthetic of terrazzo finishes, these whimsical mitts make for a great budget-friendly wedding gift. We'd recommend pairing these with the matching potholder, placemats, and tea towels to create your own modern kitchen bundle!
$38
Shop Now >>
Fferrone's line of Tulip Glasses are an elevated, unique take on traditional glassware wedding gifts. Inspired by small bistro wine glasses seen throughout Europe, the Tulip glasses feature a rounded shape on a cylindrical base for a unique yet playful contrast of forms. They come in low, small, tall, and medium sizes giving you the flexibility to gift a small set of your choosing or a mix and matched assortment. Whether they use them for wine, water, juice, or tea – newlyweds will love the fun yet polished look of these chic glasses.
$180+
Shop Now >>
Shopping any of our wedding gift picks for yourself? Share your haul and tag us @designmilk to be reposted on our Instagram!
Source: design-milk