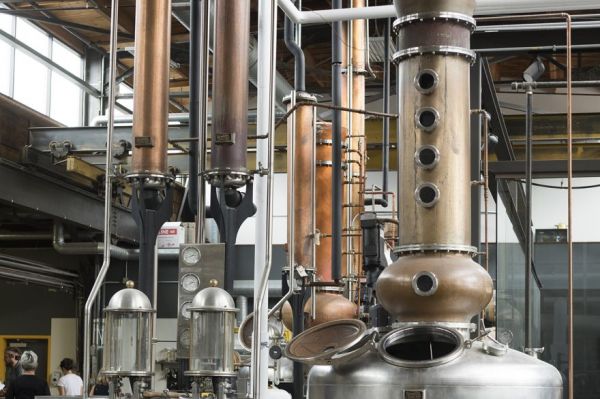 The Minneapolis Institute of Art has some rooms from the 18th century for public viewing. Associate Curator of Textiles Nicole LaBouff teamed up with Assistant Curator at the University of Minnesota's Wangensteen Historical Library Emily Beck to recreate a period-specific alcoholic beverage to serve to visitors in order to give flavor to the experience. They consulted recipe books from the 1700s, which contained plenty of alcohol, often in medicinal preparations. Back then, the line between food, booze, and medicine was pretty much non-existent. Cookbooks contained recipes for "plague water," to ward off or treat bubonic plague.     
The recipe on which Beck and LaBouff hoped to base their recreation, meanwhile, called for two dozen herbs and herbal infusions, including green walnuts, elderflower, juniper berries, and "Venice treacle," an early-modern apothecary cure that included viper's flesh, skink bellies, and opium.

When Beck and LaBouff set out to replicate plague water recipes, they realized that—unlike early-modern Europeans—they could not try this at home. Home distillation is illegal in the United States, and the daunting list of aromatics wasn't available in the grocery store.

The historians turned to Dan Oskey, founder of Tattersall Distilling in Minneapolis, to recreate the drinks. Oskey, LaBouff, and Beck combed hundreds of historical recipes, settling on several sweeter, more straightforward options, such as pear ratafia, a fruity cordial, and milk punch, a rum-based brew that had fortified transatlantic sailors. Plague water was the most complicated. When Oskey encountered the recipe's old-fashioned language, he says, his first reaction was, "What the heck does that mean?"
But they managed to come up with a nice cocktail using what they could find and reasonable facsimiles for what they couldn't. A couple of years later, the art center is closed to the public, and Tattersall Distilling has switched to making a more modern plague water: hand sanitizer. So Beck and LaBouff have made their Plague Water-Inspired Cocktail recipe public, along with the story behind it, at Atlas Obscura.
(Image credit: Tattersall Distilling)
Source: neatorama