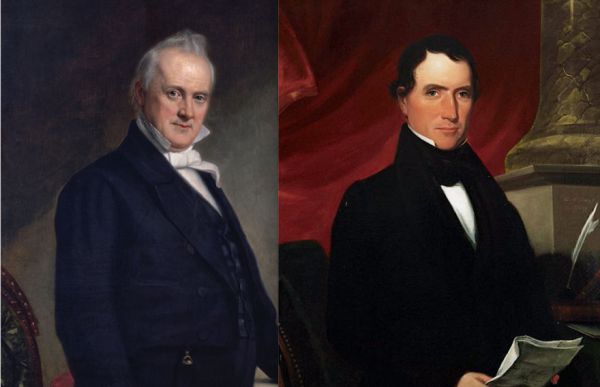 While there have been several presidents in the White House without First Ladies, James Buchanan remains the only US president who remained a lifelong bachelor. That, coupled with his close relationship with William Rufus King, led to speculation that Buchanan was gay. The rumor was sometimes alluded to while Buchanan served in government, but was rarely mentioned in history books until relatively recently. Buchanan and King lived in the same boardinghouse for ten years while both served in Congress.
Each of these two middle-aged bachelor Democrats, Buchanan and King, had what the other lacked. King exuded social polish and congeniality. He was noted for being "brave and chivalrous" by contemporaries. His mannerisms could at times be bizarre, and some thought him effeminate. Buchanan, by contrast, was liked by almost everyone. He was witty and enjoyed tippling, especially glasses of fine Madeira, with fellow congressmen. Whereas King could be reserved, Buchanan was boisterous and outgoing. Together, they made for something of an odd couple out and about the capital.

While in Washington, they lived together in a communal boardinghouse, or mess. To start, their boardinghouse included other congressmen, most of whom were also unmarried, yielding a friendly moniker for their home: the "Bachelor's Mess." Over time, as other members of the group lost their seats in Congress, the mess dwindled in size from four to three to just two—Buchanan and King. Washington society began to take notice, too. "Mr. Buchanan and his Wife," one tongue wagged. They were each called "Aunt Nancy" or "Aunt Fancy." Years later, Julia Gardiner Tyler, the much younger wife of President John Tyler, remembered them as "the Siamese twins," after the famous conjoined twins, Chang and Eng Bunker.
Thomas Balcerski, in his book Bosom Friends: The Intimate World of James Buchanan and William Rufus King, looked deep into that relationship and cautions us not to assume that friendships from almost 200 years ago expressed themselves the way they do now. He runs down the evidence we have, and explains the evidence we don't have, at Smithsonian.
Source: neatorama