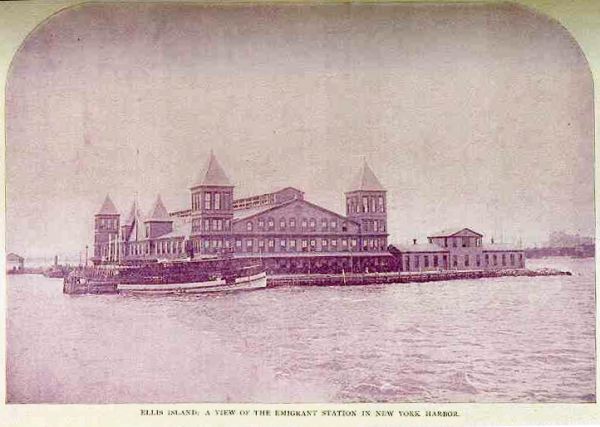 The first immigration station built on Ellis Island in New York in 1892 was a firetrap from the beginning. The main building was made of over four million feet of resin-soaked lumber, with no effort put into fireproofing. Despite multiple stories, there were no fire escapes. When the inevitable happened just after midnight on June 15, 1897, there were between 180 and 250 immigrants asleep on the island, plus the staff. The fire apparently began in the kitchen, and spread to all the buildings on the island. And since this is an article from The Hatching Cat, there was an animal involved, a heroic dog named Jack.
While all this chaos was going on, one attendant who was not on duty that night slept right through the alarm and continued sleeping in an upstairs room. According to Samuel Peterson, he was sleeping in a room over the restaurant when he was awakened by Dr. Senner's Newfoundland dog, Jack, who was trying to drag him out of bed.

Jack had reportedly run up the stairs and through the flames and smoke to wake Samuel, who had become overcome by the smoke. The dog also came to the rescue of one of the firemen who worked in the restaurant and slept in a room above Samuel's room (again, news reports differ on the number of men who were rescued from the rooms above the restaurant).
Jack wasn't the only hero of the fire, and astonishingly, no one died. But the immigration station was a complete loss, as many had predicted. Read the story of the Ellis Island fire and the history of New York City's role in US immigration at The Hatching Cat. -via Strange Company
Source: neatorama