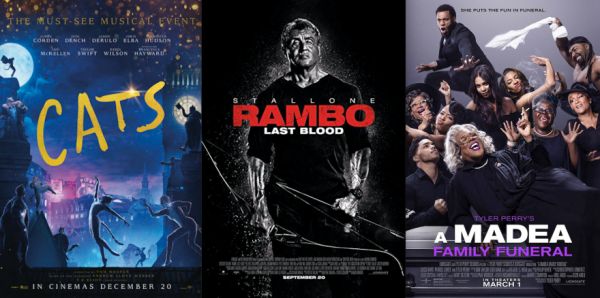 The first thing I searched for this morning was the the Golden Raspberry Awards. See, the awards for the worst movies of the year, affectionally called the Razzies, are always bestowed the night before the Academy Awards. But not this year. For only the second time in its 40-year history, the Razzies are running late. However, the nominations have finally been announced.
Three films were nominated for eight Razzies: Cats, Rambo: Last Blood, and A Madea Family Funeral. All three are up for Worst Picture. Tyler Perry is nominated for four acting awards: two nominations for Worst Supporting Actor, one for Worst Actress, and another for Worst Screen Combo… all for the same movie. John Travolta received one Worst Actor nomination for two movies. Joker made the list, nominated as a contender in the Worst Reckless Disregard for Human Life and Public Property award. That is the only Razzie appearance of a movie also nominated for a Best Picture Oscar.
There is one category an actor might want to be nominated for- the Razzie Redeemer Award, which is bestowed on an actor for "Becoming a respected artist after having been nominated for a Razzie." The list for 2020 includes Jennifer Lopez, Eddie Murphy, Keanu Reeves, Adam Sandler, and Will Smith.      
The Razzies will be televised for the first time this year, but there is no indication of when that will be. You can watch the nomination announcement video, or just read the full list, with a chart of the movies' performances, at Wikipedia.
Source: neatorama