Every year since 1966, the residents of Gävle, Sweden, erect a giant goat made of straw for Christmas. Why a goat? Why not? The Gävle Goat (previously at Neatorama) is a beloved tradition, which comes with a not-so-beloved custom of burning it down before it can be dismantled in the new year. Despite security measures such as cameras and guards, arsonists have burned down the goat in at least 35 of those years. However, the last time the goat was torched was in 2016. That's enough to make one think that the would-be arsonists may have had a change of heart. But no. On Friday, the 42-foot-tall Gävle Goat was destroyed by fire.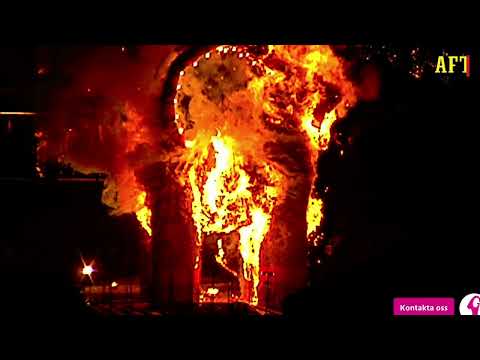 Police say they have arrested a man in his 40s who was observed acting suspiciously before the fire started. Here's where we would normally say "This is why we can't have nice things," but in the case of the Gävle Goat, you can be assured that the people of Gävle will try again next year. Read more on the 2021 Gävle Goat at Reuters.
BTW: The comments under the YouTube video are 99% happy that the goat was burned. They say it signals a return to normalcy.
Source: neatorama