Three years in the making, Italian bicycle manufacturer 3T's latest two-wheeled creation reveals itself as a sleek and adaptable gravel bike designed in collaboration with German automaker BMW. Combining the hallmark attributes of performance, comfort, luxury, and style associated with the German automaker's stable of cars, the special edition 3T for BMW Exploro sets to represent the "Ultimate Riding Machine".
Combining the lightweight attributes of carbon fiber with an aerodynamic frame engineered to cut through the air with the least resistance, the Exploro BMW Edition – nearly as fast as a road bike, comfortable as a touring bike, and ruggedly responsive as a mountain bike – is an amalgamation of attributes imagined to adapt according to surface and journey.
3T also kept the overall weight of the Exploro to a minimum by outfitting the model with the world's lightest aero carbon crank (made in 3T's Italian carbon factory), further accessorized with its own exclusive Brooks sleek saddle and matching Brooks leather handlebar tape, each luxuriously appointed with similar detail to that of an BMW automotive cabin interior.
3T was a natural choice for us, as 3T's Exploro model is the best gravel bike available combining performance, luxury and cycling pleasure to our customers.
-Gaston Streiger, Head of BMW Lifestyle division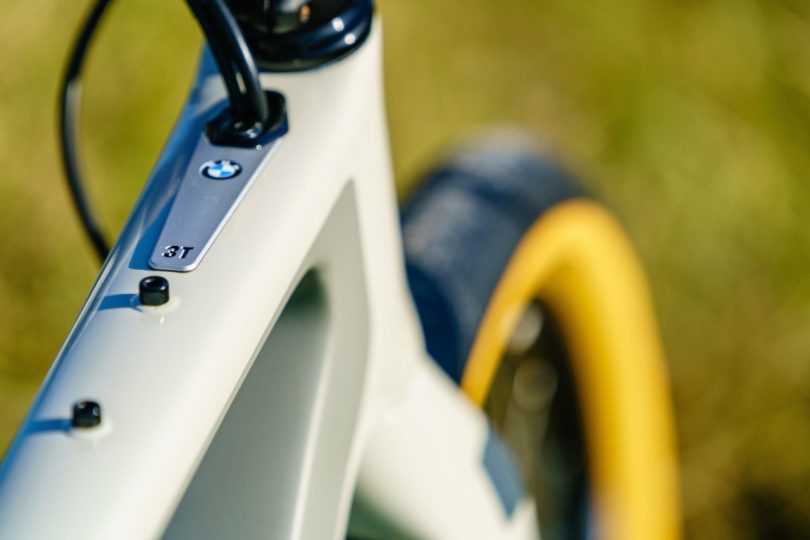 The bike is finished off with Fulcrum wheels and Schwalbe G-One Speed tires to ensure a secure grip with maximum speed on any terrain. The Shimano GRX groupset specially developed for gravel bikes completes the bike.
The 3T for BMW Exploro bike will be offered in either a dual tone grey on grey option or grey and blue combination, each available for purchase at selected BMW dealers and 3T Experience Centers in four sizes.

Source: design-milk