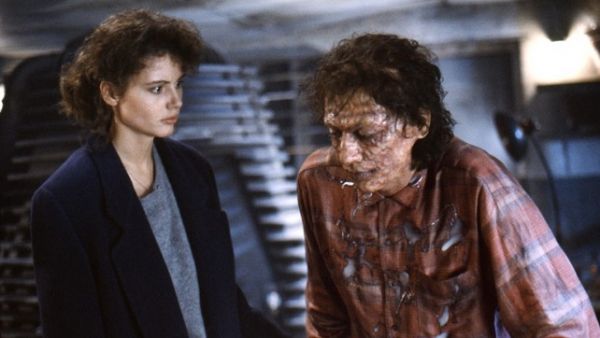 What makes a great special effects movie? Showing us things that aren't seen in real life, and making us believe them. Whether a movie is good at that depends on a lot of things, not the least of which is audience expectations. Seeing two copies of one actor in a frame isn't a big deal these days, but 100 years ago, it was a spectacular use of available technology. The emergence of the Imperial cruiser at the beginning of Star Wars was very impressive in 1977 because of the clever staging of the shot, but it only worked the first time you saw it. Ray Harryhausen's stop-motion animation was amazing in its time, as was CGI in the '90s, before we got used to it. But special effects keep getting better. Just ask anyone who saw the 1958 movie The Fly (which was a great story) and then saw the 1986 version.
Most of the time, you're lucky to get one good monster design out of a monster movie. The Fly, David Cronenberg's remake of the '50s sci-fi schlock programmer, offers half a dozen: all stages of horrific deterioration experienced by scientist Seth Brundle (Jeff Goldblum) after he accidentally splices his DNA with that of a housefly. Chris Walas' Oscar-winning makeup work—all deformed flesh and detaching body parts—is unforgettably repulsive. But even as The Fly makes very literal the real-life horror of looking in the mirror and not recognizing what you see, the effects keep Goldblum himself recognizable even as he becomes more insect than man. In other words, he's still able to act under all those prosthetics, which makes this the rare "special effects movie" that will drop your jaw and break your heart. [A.A. Dowd]
This progression of movie special effects over time is the reason why the AV Club put their top 50 picks for special effects movies in chronological order instead of ranking them. Reading through them is a lesson in film history that you're sure to enjoy.
Source: neatorama