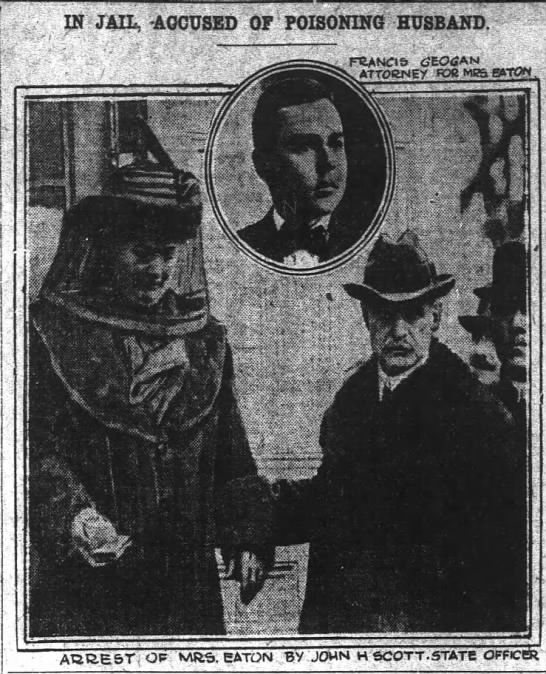 Rear Admiral Joseph Giles Eaton had a distinguished Navy career that led to him being assigned command of the Charlestown Navy Yard in 1905. After his first wife died, he married her nurse, Mrs. Jennie May Ainsworth, who quickly proceeded to paint the admiral as a monster, an abusive drug addict who she accused of killing their infant child with poison. Mrs. Eaton moved her mother, children, and at least one grandchild into their home, which the admiral referred to as a "lunatic asylum."
Little did he know that the lunacy was just getting started. On March 7, 1913, Eaton began suffering terrible stomach pains and vomiting, which he attributed to some fresh pork he had eaten the night before. Early the next morning, his wife called their doctor to announce that the Admiral was dead. He was so startled by the news that he immediately brought in the Medical Examiner to do a thorough investigation. While doing the autopsy, the medical men noticed a number of bottles in Eaton's room, which the widow told them was probably poison. Before they left, Mrs. Eaton pulled the doctor aside and said "I do not know anything about poison. I never made a study of it," and asked if he found signs of "homicidal insanity" in her late husband. She went on to state calmly that the Admiral had been a drug addict for years, and had an extensive knowledge of poisons.

After an enormous amount of arsenic was discovered in the dead man's body—at least eight times the amount that could kill—Mrs. Eaton found herself arrested for murder.
It sounds like an open-and-shut case, yet it was anything but. Read about the exceedingly weird trial of Jennie Eaton at Strange Company.
Source: neatorama