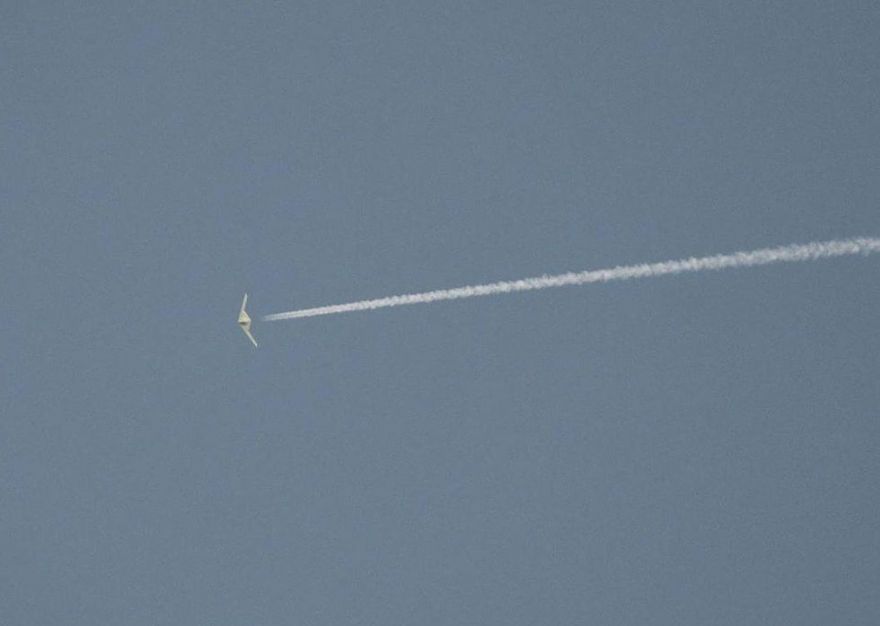 A snapshot of what could be the Air Force's spy drone surfaced on Instagram. Suspiciously, the image was taken down soon after it was posted. Don't worry, people of the Internet are very fast when it comes to saving receipts, and the image has been archived and reposted on Twitter. The photo depicts a flying wing-shaped aircraft , as Popular Mechanics details:
According to Aviation Week & Space Technology, the aircraft "was flying in a racetrack pattern at an estimated altitude of 20,000 [feet]."
The mystery aircraft, as Kolinsky points out, does indeed look like the new B-21 Raider bomber. The B-21 Raider is a new strategic bomber under development by Northrop Grumman.
The U.S. Military currently operates the RQ-4 Global Hawk for high-altitude reconnaissance missions, but the plane lacks the stealth to allow it to operate near modern air defenses. In June 2019, Iran—not exactly a giant in the world of air defense—shot down an RQ-4 in the Strait of Hormuz. It was a wakeup call for a Pentagon that relies on persistent surveillance of adversaries as an early warning system.
The Air Force has never publicly acknowledged the RQ-180's existence. In early 2020, the service sought early retirement for more than two thirds of the 35-strong RQ-4 Global Hawk fleet. This is a curious decision considering the platform is relatively young, with the average age being less than 10 years. It's not so curious, however, if there's a newer, stealthier replacement for the giant drone already flying.
Image via Popular Mechanics
Source: neatorama