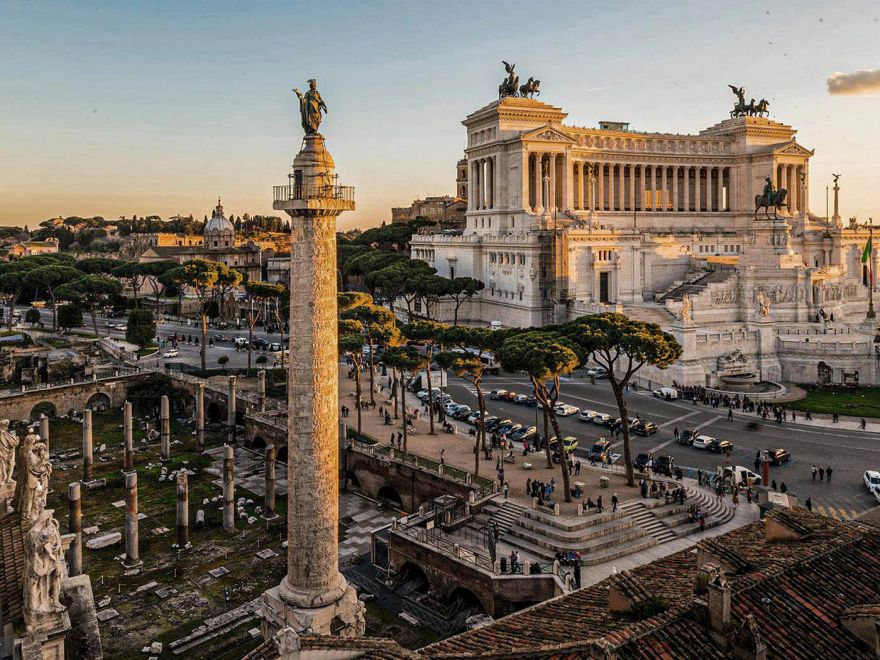 The Trajan Column is a marble column that rises 38 meters above Rome. The column recounts one of ancient Rome's greatest achievements, presenting a narrative of the Dacian Wars. The intricate carvings on the pillar show more than 2,500 figures of Roman and Dacian warriors locked in combat. Besides the column being a high quality artwork, it is also a piece of imperial propaganda:
[…]After the emperor's death, the monument served as a tomb for Trajan and his wife. For centuries this movie in stone was adored by artists and emulated by many leaders. Despite its deterioration, caused by pollution and traffic, Trajan's Column remains one of the finest ancient monuments even today.
Today, Trajan's Column rises above the busy cityscape, dominated by the gargantuan Altare della Patria, built in the end of the 19th century. But when the monument was erected in the 2nd century CE, the 38-meter column was an integral part of theForum of Trajan, a piece of art that celebratedTrajan's splendid victory over the Dacians. The construction of the Forum began almost immediately after the end of the war. The endeavor was financed by the huge war booty seized from the vanquished Dacians. Most of the work was completed within five years. Trajan's Column was put in place in 113 CE, with the special commemorative coin depicting the Column issued for the occasion.
Image credit: via National Geographic
Source: neatorama