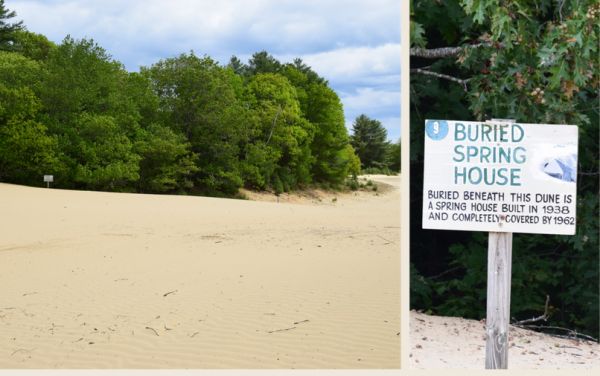 Due to some quirks of both nature and human interference, there is an area of sand dunes in Maine called the Desert of Maine. Naturally, it was made into a tourist attraction early in the 20th century. A freshwater spring was found on the property in the 1930s, which was fortunate for thirsty tourists. However, just because you can own it and profit from it doesn't mean you can control it.
At some point in the late 1930s, the then-owners of the property built a gazebo-like structure around the well-head. "For a time, visitors could go over and get a drink of water from the groundwater spring," Smith says. And though he hasn't seen any historic advertisements, he adds, "I would be strongly surprised if they weren't advertising healing properties or something."

Trouble is, dunes are always on the move. The dunes at the Desert of Maine are said to have swallowed entire trees: One visitor, recounting a 1936 ramble for a New Jersey newspaper, recalled standing on dunes that had recently overtaken an apple tree, whose branches still seemed alive and jutted out through the blanket of sand. "That's what sand dunes do, migrate from place to place," Smith says. And the dunes marched right over the gazebo.
The gazebo, called the Spring House, was labeled as unsafe due to encroaching sand, and by the 1960s, it was completely buried. This fall, the owners of the Desert of Maine hired Josh Smith to dig up the Spring House. Read how that is going at Atlas Obscura.
(Image credit: Josh Smith)
Source: neatorama