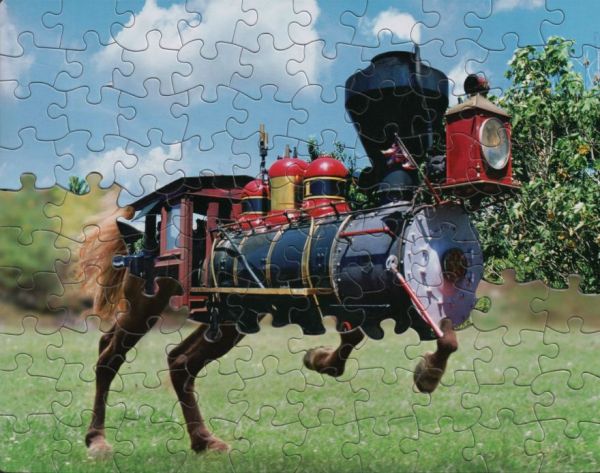 There are jigsaw puzzles of all kinds, with a variety of subjects. But there are only so many machines that cut them into pieces. It's possible to combine two or more puzzles that are cut on the same grid to make a completely new picture that interlinks perfectly. Art professor Mel Andringa was the first to do this, and he taught the technique to Tim Klein.
…By selecting pieces from two or more compatible puzzles, I assemble a single "puzzle mashup" with surreal imagery that the publisher never imagined.

Sometimes the results are merely chuckle-making, such as my combination of King Tut's burial mask with the front of a truck, which I call "King of the Road". But my favorite montages are ones in which the whimsical is tinged with something a bit deeper, such as "The Mercy-Go-Round (Sunshine and Shadow)", in which a fairground carousel whirls riders around a church from the light to the dark and back again — or "Surrogate", in which a strange hybrid of beer can and teddy bear opens its fuzzy arms and tells you to "consider yourself hugged".
Read more about the technique at Boing Boing, and see a gallery of Klein's work at his website.
Source: neatorama