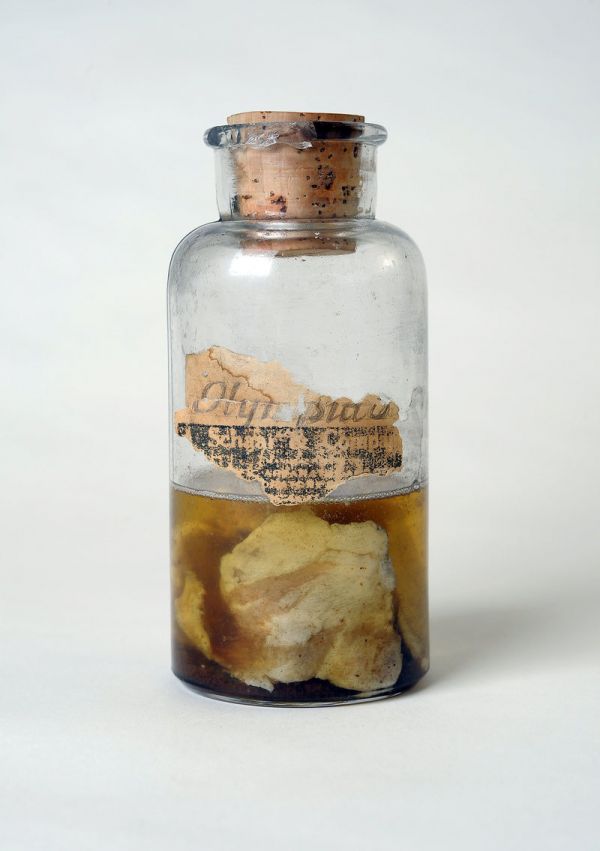 You may or may not recall reading about that time meat rained down from the sky in Kentucky. The absurd event happened in 1876 in Olympia Springs. There were many theories on how it happened, but none were proven at the time, so the incident was relegated to the "strange and bizarre news" category. Then Kurt Gohde moved to Kentucky to teach art at Transylvania University and heard the story. He did a deep dive into all the documentation from that period, which was little, but enough to make him more curious.  
Fascinated with the meat shower to begin with, a serendipitous find in 2004 stoked his ardor even further. He was clearing out storage closets at Transylvania University when he stumbled upon an old glass jar sealed with a cork stopper. It contained a chunk of white, fatty-looking meat, suspended in a pale yellow liquid. The label was faded, but the words Olympia Springs could still be made out. Gohde was thrilled.

Determined to try and pinpoint what mystery animal rained down over Olympia Springs, Gohde worked with a colleague in the biology department to have the sample genetically tested. Unfortunately, the sample was too old and contaminated to give any conclusive results.

Then Gohde got creative. Much of his artwork involves community engagement, so he had a taste lab based in Cincinnati analyze flavor compounds of the meat sample and reconstruct the taste in a jelly bean. Gohde wanted to educate local Kentuckians about the curious climatic event, and if anything, jelly beans would be a great conversation starter.
Yes, he made jellybeans with the flavor of the meat shower. Read about those jellybeans and the incident that inspired them at Atlas Obscura.
(Image credit: Kurt Gohde)
Source: neatorama