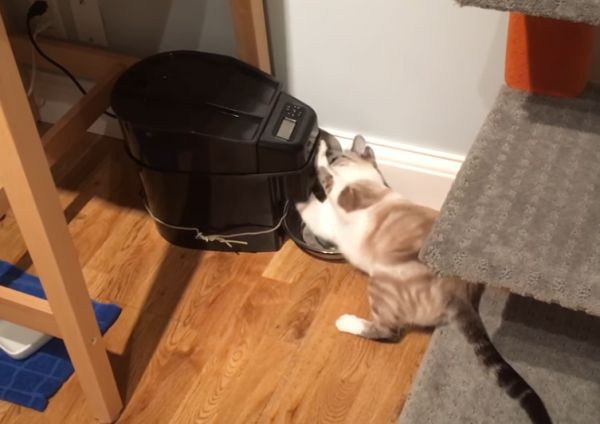 A couple of years ago, Quinn at BlondiHacks thought it would make things easier for her if she got an automatic food dispenser for her cat Sprocket. While the amount of food Sprocket would get would be the same as she got from human-feeding, the cat knew there was more food stored inside. And she took that as a challenge.  
Sprocket's first gambit was very simple- she would nudge the machine with her little eight pound body, and some food would fall out. There were always some loose pieces near the end of the conveyor, and jostling the machine would send a few out. The machine is under a table, so I answered this first challenge with some stiff wire to anchor it to the table leg.

Undeterred, Sprocket then learned she could climb on to the stringers of the table to get high ground above the machine, then grab the top edge with her little mouth. She could then lift it and drop it, causing pieces to fall out. To deter this, I grabbed a heavy piece of steel off the junk pile and placed it on the machine to make it hard to lift with tiny feline choppers.
That was only the beginning. No matter what restrictions Quinn added to the gadget, Sprocket would figure out a way around it, or another way to hack the machine herself. Quinn added brackets, pins, guards, weights, and walls. Before the story was over, she had the entire machine encased in a steel box. It would have been easier just to go back to hand-feeding the cat, but it was the principle of the thing, ya know?
The trick is to be smarter than the animal with a brain the size of a walnut
You can read the full saga with more pictures and videos, and craft specs, at Blondihacks.  -via reddit
Source: neatorama