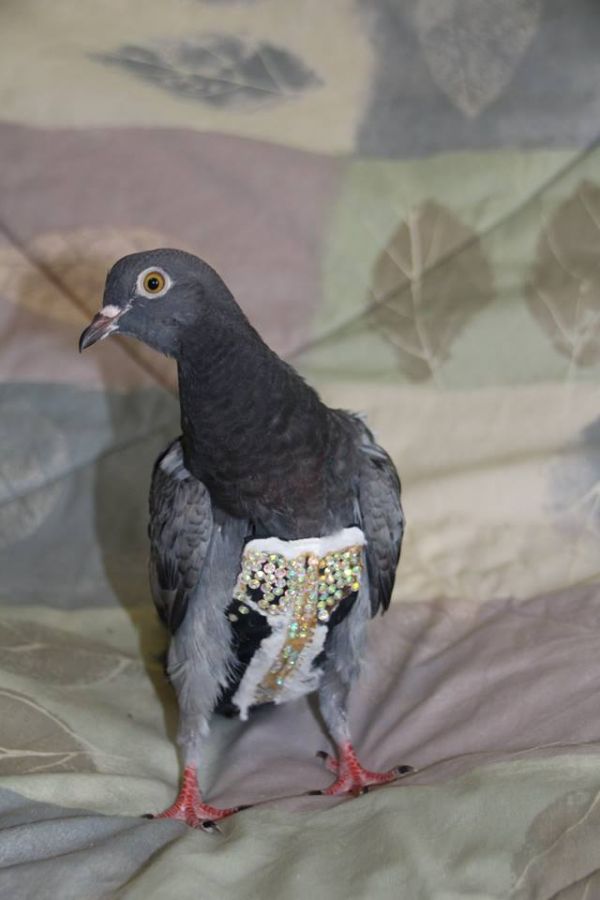 Found: one pigeon, wearing a rhinestone vest. If this is your pigeon, contact Fallen Feathers in Phoenix, Arizona.
Jody Kieran, the owner of the Arizona-based bird rescue and rehabilitation center Fallen Feathers, tells Gizmodo that the male pigeon came into her care about last Sunday after someone in her community contacted her about a bird outside of their home with something odd on it. Kieran told the caller to catch the bird and bring it on over. When they showed up with "the pigeon wearing the thing," Kieran said she wasn't sure what to expect.

"I said, 'Okay we've got to see this.' I kind of rolled my eyes." she says. "I open it up, and there he is, wearing a flight suit."

Flight suits are used to capture bird poop while the bird is out of its cage. They're basically bird diapers, but more stylish, as is evident by this pigeon's rhinestone-adorned vest. And assuming it didn't bedazzle its own flight suit, it's clear it belonged to someone who probably cared about it.
A week later, no one has claimed the pigeon, which Kieran says has a great personality and loves Westerns. Read more about her new feathered fashionista friend at Gizmodo.
(Image credit: Fallen Feathers at Facebook)
Source: neatorama