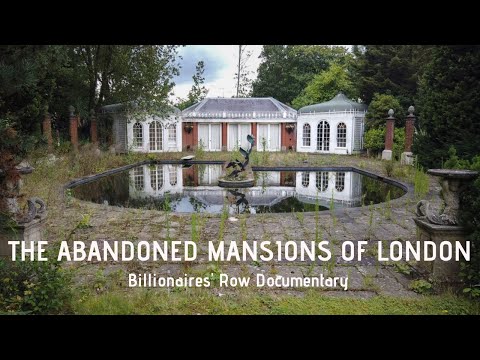 This is Bishop's Avenue in North London. It is dubbed as the "Billionaire's Row" and is one of the richest streets in the whole world. The average property on this avenue is about £5 million, not to mention that more grander mansions cost many times more. Take for example the Toprak Mansion. Originally owned by Turkish tycoon Halis Toprak, it was bought by the President of Kazakhstan in 2008 for £50 million; it is one of the most expensive houses in the world. There's a catch to this place, however.
The entire neighbourhood is owned by the super-rich, ranging from Saudi princes to East European arms dealers to Indian business magnates. Yet, no one ever lives here for more than a few weeks each year. Most have been left to the staff who looks after the properties while the owners are away. Others have never been occupied. Several huge properties have fallen into ruins after lying vacant for more than 25 years. These once expensive homes are in a terribly bad shape with peeling paint, rotting carpets, water streaming down bedroom walls, collapsed ceilings, and ferns growing between broken floor tiles.
One property owner, the developer Anil Varma, describes the place bluntly. He calls it "one of the most expensive wastelands in the world."
Know more about this over at the Amusing Planet.
Would you buy a house on this avenue?
(Video Credit: Beyond the Point/ YouTube)
Source: neatorama