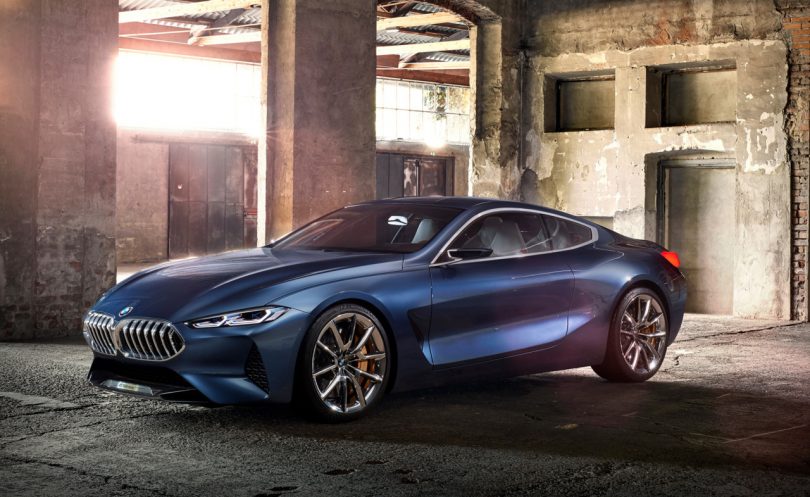 I'm standing in a capacious warehouse situated in an industrial section of Milan, just a stone's throw from the Fondazione Prada with the convivial Marc Girard, Head of Design Concept Cars at BMW. Under a scaffolding of seraphic studio lights illuminating his team's yet to be unveiled creation, we stand before the BMW Concept 8 Series, a dormant predator glowing softly for the moment.
I'm here for an early preview of a vehicle destined to be unveiled only a few days later across the storied showcase of Concorso d'Eleganza Villa d'Este in Lake Como, an auto event where beauty is paramount over all.
The photo venue's vicinity to Fondazione seems appropriate considering the vehicle before me – all sinewy, sculptural muscularity in harmonious proportion to the luxurious hallmarks bestowed onto the concept – playing as much with contrast as continuity, modernity pushing against the bounds of the automotive brand's heritage, a freedom normally afforded to artists, rarely designers. The concept's silhouette is alluring, every curve accentuated by the aforementioned lighting working its magic across the mesmerizing Barcelona Grey Liquid coat, an exterior finish inflected with iridescence and unique to the vehicle. The desire to touch the paint is unbearable.
The 8 Series moniker has been shelved for nearly two decades. BMW ceased production in 1999, a fact Girard is very well aware of – and almost winces at mention of – possibly a reaction in acknowledgment of the expectations that come attached with such a notable absence and anticipated return. 2018 couldn't come quicker.
The BMW Concept 8 Series is our take on a full-blooded high-end driving machine," says Adrian van Hooydonk, Senior Vice President BMW Group Design. "It is a luxurious sports car which embodies both unadulterated dynamics and modern luxury like arguably no other. For me, it's a slice of pure automotive fascination.
Initially, Girard relaxingly follows a script meant to highlight key features – "dynamic", "uncompromising", and "expressive" spills forth in continuity as he walks me around, pointing out the stylized cues of a concept vehicle only millimeters in refinement in certain sections from production, but still every bit a concept show car: the pronounced musculature of metal moulded over the radiance of 21″ light-alloy wheels, trapezoidal exhaust tailpipes deserving of a protractor's attention, the iconic twin kidney grills now brought together by an unbroken frame to form a single large element, the architectural steps of laser headlights glaring cold and bright with the menacing visage of a shark.
Every angle rewards both an immediate and more studied view, sometimes looking every bit the part of BMW lineage, other times not immediately recognizably so. Unlike many concept cars designed with the intention to surprise fleetingly, there's no audacity in form, only in the spirit. BMW's expression here has been given the breathing room to impress discovery with unhurried.
Careful to navigate the team of photographers/videographers gathering the final details for worldwide release, Girard allows me to lean in to inspect the suede soft brown and "Fjord White" interior ambience wrapped across racing-style bucket seats, each cupped by an expanse of sporty carbon fibre, the hand-polished aluminum stretched throughout, and ant lines of eye-catching red stitching hewn across the center and door leather panels. A faceted gearshift lever and iDrive Controller made from Swarovski glass with a smoky quartz sits center, a tactile luxury in a vehicle intended to communicate speed with luxurious spirit. The edited simplicity of the interior presents a statement of luxury through less.
Only once our compulsory walk around is completed does Marc Girard relax to share beyond rote remarks, revealing an interesting detail harbored deep in memory only after we chit-chat about design outside of the realm of the automotive.
"I have a long interest in architecture. So, you could say the [Concept 8 Series] design found some influence from a field trip our team took two years. You're from Los Angeles…so you know about the Salk Institute in San Diego, right?" leaning in every so slightly in anticipation of affirmation.
I nod in agreement and Girard stares off for a heartbeat in remembrance of the modernist architectural masterpiece of form, function, and landscape.
"The architecture of that place…it was very…you know, incredible. The lines drawing out into the distance, into the ocean. I think it left its mark on us. We all left blown away and I knew afterward what we needed to do."
Afforded this off-script moment, the Concept 8 Series takes on another layer of experience, defined by something as indescribable as the monumental architecture of Louis Kahn. And just like that,  as all lines of the Salk Institute draw toward infinitely toward the Pacific Ocean, I can now see all lines of Girard's BMW design team's work exhibited across the BMW Concept 8 Series pointing infinitely toward the road of possibilities.

Source: design-milk