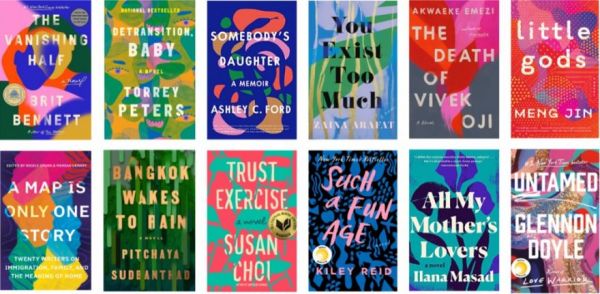 You know what they say: Nothing succeeds like excess. When something works, you use it again and again, or even steal the idea from someone else. That's how trends start, and they keep growing until people can't help but notice. Book lovers scanning the shelves of their  local bookstore have already noticed, and now they are having trouble distinguishing one new book from another, because they all have that colorful blob cover. They even have a name for it: the Book Blob.
We've seen this happen before. If a romance novel has a shirtless man on the front, it is a bodice ripper. If it has a woman in 18th-century farm dress, it is a more chaste romance. What do these colorful blobs mean?
They are usually fiction and nearly always written by women, often women of color. They have literary sensibility but broad enough appeal to contend for the bestseller list; they're the sort of books that generate a good deal of buzz and media coverage, likely candidates for an Oprah Book Club nod or a spot on a major literary prize's shortlist.
All that also means they may be featured on multiple tables at the front of a bookstore. Read about this design trend and the factors that cause all book covers to look alike at Print magazine. -via Kottke
Source: neatorama