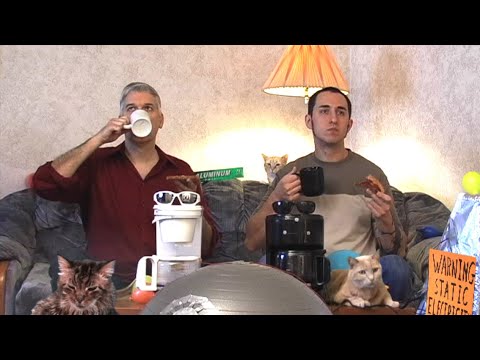 Paul Klusman and TJ Wingard are engineers who are particularly interested in cats. You might recall them from An Engineer's Guide to Cats which established them as authorities in 2008, or from their subsequent videos. In this video, they examine how cats have always inspired humans to develop technology to make our lives easier. They also extrapolate about which tech developments may be in our future as inspired by cats. Then at the five-minute mark, they run out of inspiration and stage a Sweded Star Wars video starring cats and the tech they've already talked about.
There are many clever inspirations in this video, but I was drawn to the idea of using a lint roller on a cat. It's been my habit to use a brush on a cat's fur, and a lint roller on the rug. I should just combine those two activities! But what really drew my attention was the YouTube description.
This video was ten years in the making. Getting it done was a big part of my incentive for beating cancer (stage IV Lymphoma, November 2020). Thank you TJ, Monica, Larry, Mark, Ben, Tom, Calyssa, David, Nick, Paulette, Eldon, Richard, and Mitch. Thank you sweet kitties. Thank you patrons and supporters. Thank you all our lovely fans watching all this these years!
We wish Paul all the best. As he says, imagination and cats are the most powerful force in the universe. -via Laughing Squid
Source: neatorama