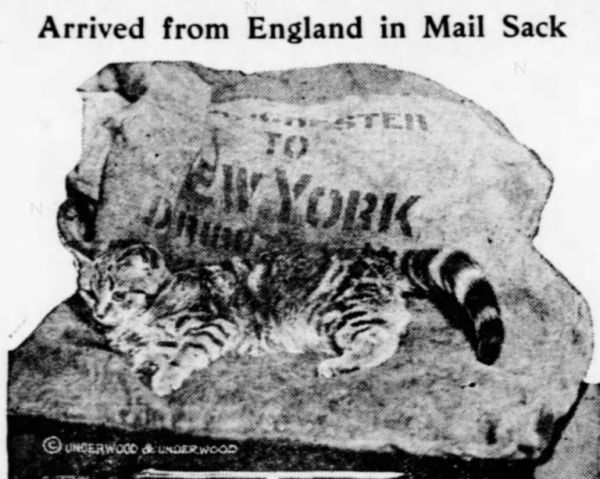 The RMS Aquitania carried both mail and passengers from Manchester, England, to New York City. When it arrived in New York on December 11, 1920, there was quite a scare when workers unloaded the intercontinental mail.
When the Aquitania arrived in New York that Saturday morning, all of the mail bags were loaded onto the pier. A workman noticed a slight movement in the bag and began yelling. "Help! Murder! A bomb!" All the men on the pier ran for their lives in complete panic.

After the frightened men calmed down, one of the workers approached the mail sack and loaded it onto a truck. The package was rushed to New York's General Post Office on 8th Avenue at 33rd Street.

After opening the bag, the employees watched in amazement as the kitten jumped out and staggered across the room. He made his way to a radiator, where he stood shivering and chewing on a piece of paper that he had carried from the mail sack.
You'll be glad to know the story of the kitten had a happy ending, although his exact origin was never determined. The story made the papers, and may have overshadowed the bigger story of the Aquitania's return trip to England. Somehow, mysteriously, the president of the Sinn Fein Irish Republic Éamon De Valera managed to travel from America to Ireland, supposedly on the Aquitania without being arrested on its arrival in England. Read both the stories of the stowaway cat and the rumored human stowaway at The Hatching Cat. -via Strange Company
Source: neatorama