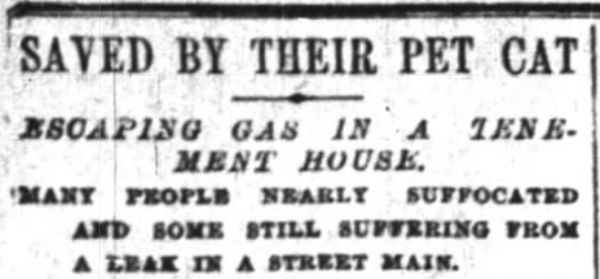 In 1889, a building on 75th street in Harlem suffered a gas leak in the middle of the night. Some background on the incident gives us pause, as quite a few families of up to seven people lived in two and three room apartments. The leaking gas filled the basement apartment first.
As the gas rapidly filled the cellar and made its way up into the basement and other floors above, all of the tenants remained sound asleep. At about 4 a.m., Mrs. May woke up and covered the kitchen sink opening with a cloth, thinking the foul odor she smelled was sewer gas. She went back to bed.

About an hour later, the May's two cats began howling in the cellar. The loud duet woke up Mary, who asked her mother what she thought was wrong with the cats. Mrs. May said the cats were probably just sick. She then got out of bed and started preparing breakfast for the family.

Mary thought the cats were dying, so she got up to investigate.

Upon opening the door to the cellar, Mary was overcome by the gas and nearly suffocated. Her mother did not notice that Mary was in trouble until the family dog joined the cats and started howling.
You can read the entire story, plus a history of the gasification of New York, at The Hatching Cat. The moral of the story is that you need to know what a natural gas leak smells like, and it's good to have pets. -via Strange Company
Source: neatorama