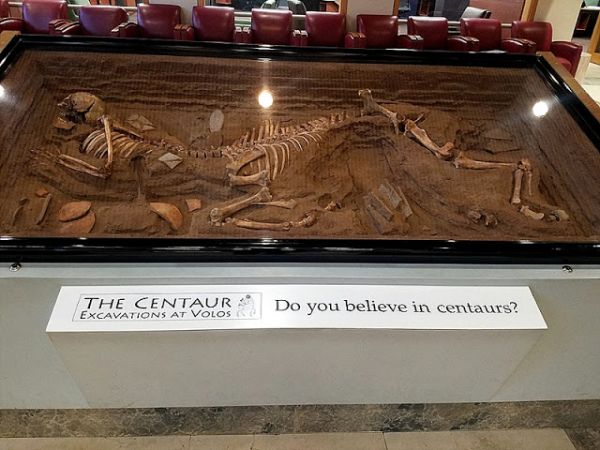 The John C. Hodges Library at the University of Tennessee in Knoxville has a centaur on exhibit, displayed as it was found in an archeological dig. J.W. Ocker had to go see it.
The exhibit was of a half-excavated horse-man skeleton in a death pose, like you'd see at a natural history museum for one of the smaller dinosaurs. Embedded around it were shards of ceramic pottery. On the other side of the display were more shards of pottery, each one bearing distinct shapes reminiscent of the hooved humans. A placard explained the history of centaurs, their culture, and how this skeleton was one of three that had been pulled from the muck near Volos, Greece, causing historians and biologists and LARPers to rethink the mythical status of the creature.
We don't know how many former and current UT students have even noticed the exhibit at the library, or how many assume it to be a scientific exhibit instead of an art installation. It's called The Centaur Excavations at Volos, and it was built by artist and biology professor Bill Willers in 1980 (with real bones). UT purchased it a few years later, and it's been on display in the library ever since. Read about the exhibit and see more pictures at OTIS.
(Image credit: J.W. Ocker)
Source: neatorama