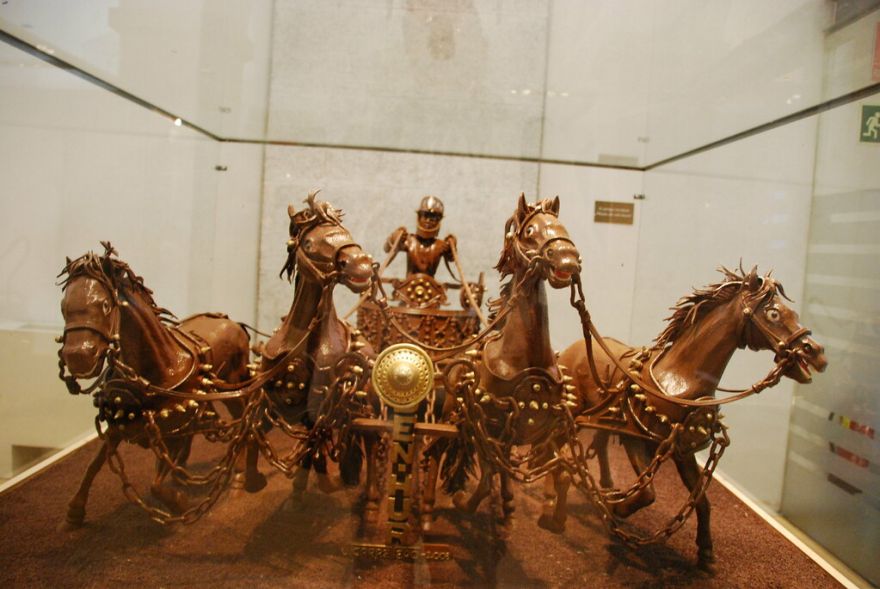 Five hundred years ago, chocolate first arrived in the European shores in the form of cocoa beans. After pillaging the Mayan and the Aztec empires of Central America, where the cocoa beans have been cultivated and used to create various forms of chocolate for over 3,000 years, Hernan Cortes and his conquistadors brought the spiced treat with them over to the ports of Spain.
In honor of this trans-Atlantic transfer, the Barcelona Confectionery Guild has set up the Chocolate Museum to tell the story of chocolate and its modernization. Although the history section of the museum is in no way perfect, visitors get a general trajectory of chocolate's evolution, moving from bitter water to the stunningly detailed sculptures that fill the museum. By using the statues to visibly depict modern chocolate innovation, the arc of the history of chocolate feels fairly complete.
Upon entrance to the museum, guests are greeted by a massive white chocolate ape named Snowy, along with their own chocolate bar as part of their admission. As they munch on the confectioner's chocolate, guests walk past glass-encased sculptures made entirely of chocolate. The sculptures include some famous cultural icons such as Minnie Mouse and Louis Armstrong. However, the bulk of work focuses on Spanish architecture, proudly featuring Sagrada Familia, one of Gaudi's famous houses, and creatures from Parc Guell.
What a sweet way to tell history!
(Image Credit: SpirosK / Flickr / Atlas Obscura)
Source: neatorama