A few weeks ago I took a trip up north for a girls weekend away to Tahoe to stay…in a motel. Now the last time I stayed in a motel, I remember yellowed sheets, questionable hygiene, the smell of cigarettes, and stains from carpet to ceiling. I vowed that day never to stay in a motel again. However, I came across the Coachman Hotel which promised an elevated motel experience where guests can enjoy modern conveniences during their escape to the outdoors. I was instantly intrigued and, in the end, pleasantly surprised.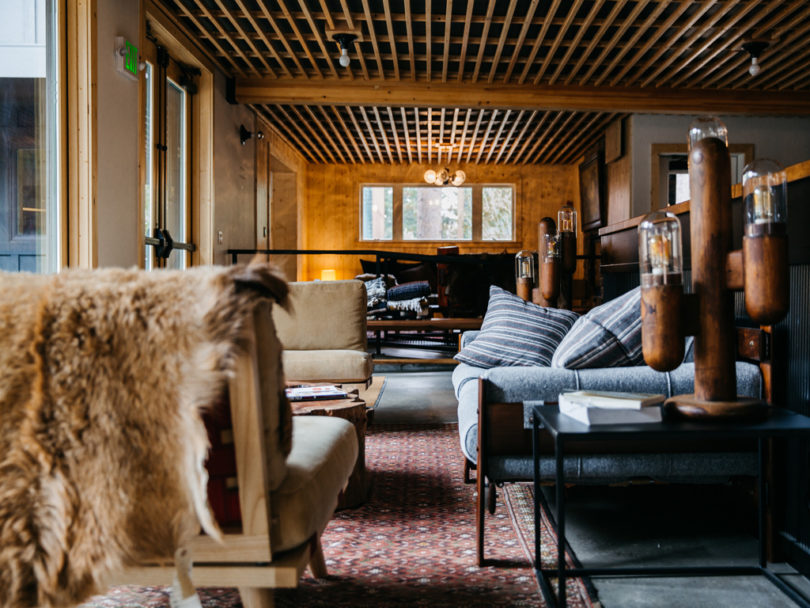 Located on the south end of Lake Tahoe on the California stateside, the Coachman Hotel reminds me a lot of an Ace Hotel – that is, if the Ace Hotel interior designer was also a part-time lumberjack. In actuality, it was Brooklyn-based Studio Tack that gave the 1960s motel a major face-lift with the interiors and branding. The hotel consists of 42 guest rooms and suites that are all stylish yet practical (after all, there's no place for excessiveness in the great outdoors). There is room for modern design though, and I was pleased to see that the hotel supported familiar names. There were furnishings from Stephen Kenn, goods from Brendan Sowersby of 100xbtr, tables and chairs from Jason Pickens, and contemporary accents from Eric Trine.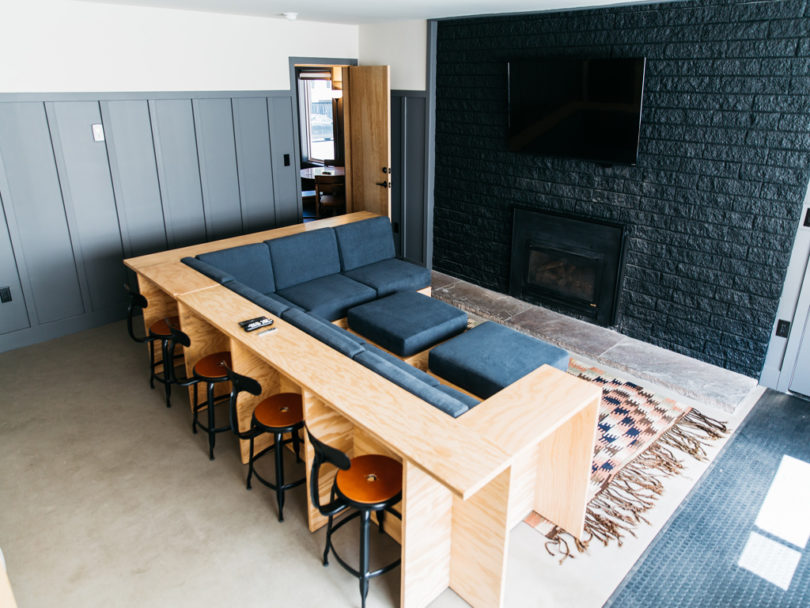 For more of a splurge, you can opt for the King Suite or the 3-Bedroom Suite which offers more space to stretch out.
In every room, you'll find a curated minibar (not your average Snickers and chips), Apple TV, Frette linens and towels, Woolrich blankets, and Malin + Goetz bath products. A designated "wet" area gives you a place to set down your equipment after a day of outdoor activities.
In the morning, head on into the communal kitchen for a complimentary continental breakfast. You can even make your own waffles!
The interior design features lots of warm wood, piles of cozy blankets to borrow, and contemporary fixtures that set a low, ambient glow throughout the shared gathering spaces at night.
One thing you'll appreciate when staying here is the ways that the hotel encourages you to be outdoors, whether it's hanging out at the pool or jacuzzi, playing a game of cornhole, sipping a cup of Stumptown coffee or a glass of craft beer with the lounge doors wide open, or making complimentary S'mores at night.
Your furry friends are most welcomed at this dog-friendly hotel.
Overall, the Coachman Hotel reset my expectations when it comes to motels, though I'm sure not all motel experiences will be like this one. If you're looking for a low-key weekend getaway and want all of the ingredients for a comfortable, cozy stay while taking in the mountain air, I highly recommend this hotel.
What: The Coachman Hotel
Where: 4100 Pine Boulevard, South Lake Tahoe, CA, 96150
How much? Rooms start at approximately $88 per night.
Highlights: You might say that the Coachman Hotel is a no-frills kind of place but that's not true. The hotel provides plenty of comforts – like complimentary breakfasts, a coffee bar serving Stumptown coffee/espresso, and complimentary evening S'mores – without distracting from the reason you came, to enjoy the outdoors.
Design draw: There's no rule that says contemporary design and nature can't coexist. You'll find pleasant amenities like Apple TV, Malin + Goetz bath products, heated toilet seats (very important in colder months!), and custom furniture in every room.
Book it: Visit the Coachman Hotel's website
Photos by Luke Beard.

Source: design-milk