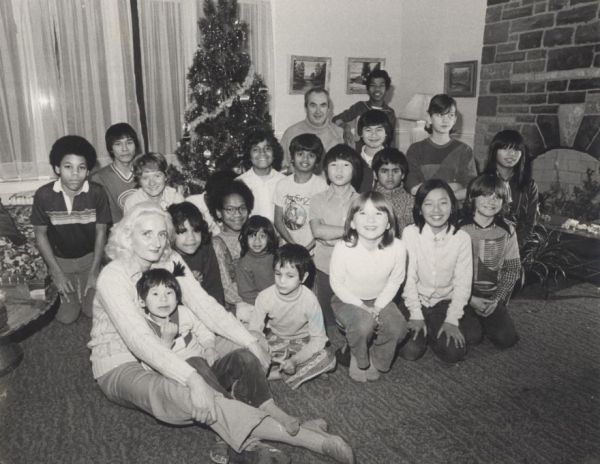 Sandra and Lloyd Simpson adopted more than two dozen children in the 1970s and '80s, to add to several that Sandra gave birth to. That was something that Toronto had never seen, and won't likely see again. But Sandra saw the need in Canda's foster care system, then in Vietnamese refugee children, and in international adoptions that didn't work for other people.
With their sprawling numbers and the haphazard way they came together, the Simpsons pressed up against the boundaries of what it meant to be a family. They arrived in Forest Hill in 1978 like an asteroid, crashing into a wealthy white neighbourhood that had never seen so many Brown faces before, let alone enough Brown faces to field both sides of a baseball game, and all under one roof. They embodied a particular strain of mid-century Canadian liberalism—a belief that the complications and inconveniences of race could simply be discarded and replaced with a new collective identity.

Talk to the Simpsons today and they'll say they were just like any other family. Over the course of 20 years in the big house on Russell Hill Road, they played on soccer teams and got into fistfights, snuck around with boyfriends and delivered newspapers. They experienced joy as well as tragedy—troubles with the law, illness and disability.

Now, 40 years later, the Simpson kids have grown into chefs, business owners, athletes, hospitality workers and parents with kids of their own. And they've had time to reflect on the singularity of their childhood and of their mother's vision, and on the peculiar moment in time that allowed their family to flourish. Sandra pushed the limits of adoption so far that her motivations still seem alien, even to her own children. "To tell you the truth, she's not normal," her daughter Kathryn told me. "I don't think anyone could really explain her." She had a unique brand of stubborn, no-nonsense altruism that persevered in the face of bigoted NIMBYism. What happened on Russell Hill Road is not just the story of an extraordinary woman, but of a radical experiment in child rearing. Sandra Simpson didn't keep the suffering of the world at a distance. She invited it into her home and made it family.
Read the story of Sandra Simpson and the children she raised at Toronto Life. -via Digg
Source: neatorama