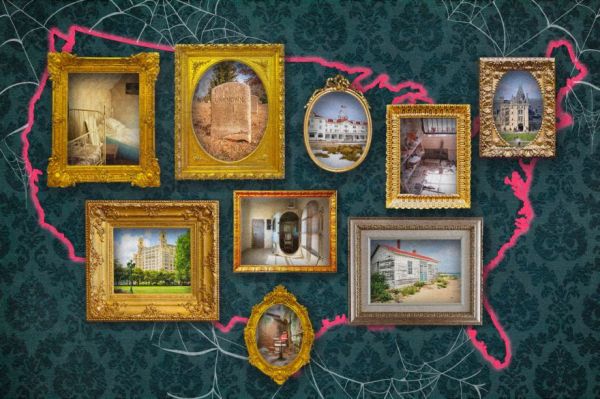 Every state has numerous places that will give you bad vibes, whether from its sad history, gloomy looks, or scary legends. The creepiest have all three, plus the experiences of others who have visited and tell of supernatural observations. These places include houses, hotels, hospitals, prisons, bridges, toads, cemeteries, and even a tree. That would be the Devil's Tree in Basking Ridge, New Jersey.
Out of context, the tree's silhouette alone is enough to inspire nightmares: a warped, half-dead oak looming in the middle of a lonely field, with dozens of ax marks lining its trunk. Then there's the gruesome history. A purported meeting place for the KKK, notorious suicide site, and rumored gateway to the depths of hell, the Devil's Tree is infamous among locals and has evolved into a chilling tourist attraction. Legend has it, anyone who harms the tree will suffer swift and violent retribution—so naturally, it has become a tradition for ballsy teens across the Garden State to pee on its trunk. But do so at your own risk—you might just lose your life (or your manhood) to the tree's sinister curse. Also, that's just unsanitary. —AS-N
Or consider the Wyoming Frontier Prison in Rawlins.
Wyoming's first state penitentiary was about as miserable as you'd expect a stone prison on a cold, whistling prairie to be. It didn't have hot water until 1978. It did have something called the "punishment pole," to which prisoners were handcuffed, then whipped with rubber hoses. It's been closed since 1981, but guided tours allow you to get up close and personal with the "death house" (which housed inmates on death row), the gas chamber, and offices left exactly as they were. October is the best time to visit, when the prison hosts midnight tours in the days leading up to Halloween. —MM
You may think you know the creepiest place in your own state, but reading through the list, I was surprised that Georgia's was not in Savannah, and Kentucky's was not Waverly Hills Sanatorium, so you are liable to read about places you haven't heard of before. And the list has bonus links to other notable haunted sites. Read up on a possible future road trip to some really creepy places at Thrillist. -via Digg
(Image credit: Maitane Romagosa/Thrillist)
Source: neatorama