"Believe it or not, I can actually draw." — Jean-Michel Basquiat
With a fame that endures to this day, Jean-Michel Basquiat explored multifaceted cultural phenomena in his distinctive artistic language throughout his eight-year career. Parallel to European Expressionism, Basquiat was renowned for his graffiti-inspired works imbued with black identity and robust self-expression.
Born in Brooklyn in 1960 to a Haitian father and a Puerto-Rican mother, Basquiat left home at the age of fifteen and took to the streets, immersing himself in Lower East Manhattan with a group of filmmakers, artists, and musicians. It was during that time he first became known for his powerful graffiti collaboration with Al Diaz, called SAMO — a series of cryptic statements that satirically comments on traditional art, racism and other cultural and social topics. Catalyzed by the influence of pop culture and an obsession with poetic expression, Basquiat started painting and drawing in 1981. Accompanied by his tremendous passion and talent, his works soon came on the scene and exhibited all over the world.
Skull-like faces, protruding eyes, and visible teeth are typical elements in Basquiat's work. With bold color palettes and unrestrained brushstrokes, his work exudes a strong sense of emotion and narrative, pouring with the contexts of modernity and savagery as well as rationality and expression. Basquiat's work is a mirror that not only expresses his creativity and  imagination but also reflects reality and conveys a social statement. Although his works were often described by critics as angry, controversial and politically radical, the distortions on Basquiat's canvas are the very distortions that really exist in the world, and they are the racial problems and social oppression that the African-American artist wanted to point out. Neatly arranged texts often flow from seemingly chaotic composition in his painting, in which Basquiat criticizes and responds to real life while expressing a desire for an ideal world. 
The young artist's life ended tragically at the age of twenty seven, he however produced thousands of paintings and drawings during his short yet glorious career, leaving a remarkable legacy that continues to influence generations.
Nathan Paddison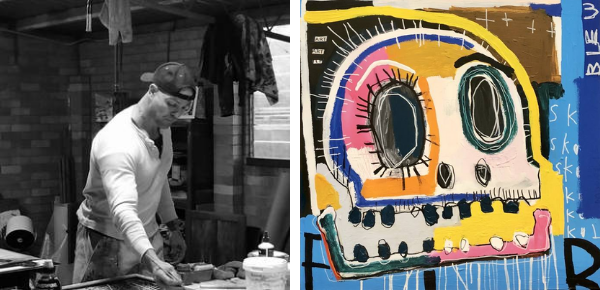 Inspired by his personal experience, Nathan Paddison's paintings are raw and evocative. Echoing Basquiat's bold brushstrokes and the use of texts, Nathan is adept at abstractly representing figures with exaggerated lines and inserting powerful words. He trusts his imagination completely and exposes his emotions and feelings on canvas without reservation, which the viewer can intensely relate to. See more of Nathan's work here.
Niki Hare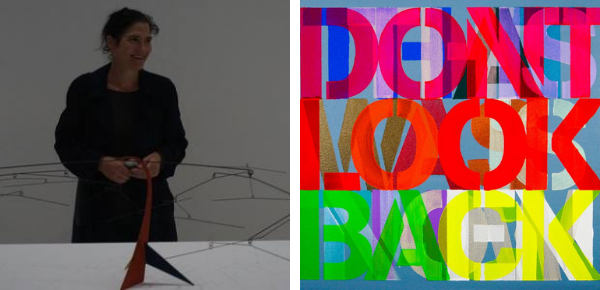 Self-taught artist Niki Hare's series of word paintings are recreations of street culture. Just as graffiti cannot be modified, Niki never intentionally controls the destination of the words in her paintings, which are constantly being created and buried. Each layer of text however is recorded in the work, highlighted by the vibrant fluorescent colors that finish Niki's statement. See more of Niki's work here.
Bollee Patino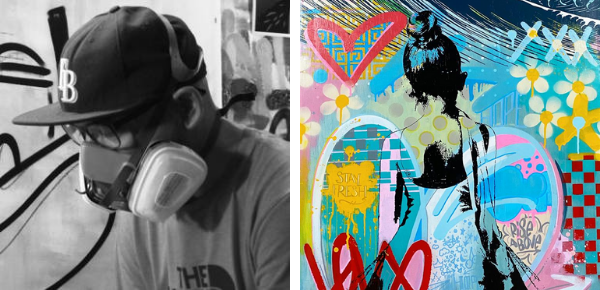 Drawing inspiration from his graffiti background, Bollee Patino brings the elements and mediums to the canvas. By utilizing acrylic and spray paint, Bollee fills his painting with Neon-like colors and pop symbols. Unlike Basquiat's primitive style, family element, for example childhood and cartoons, is the leitmotif of Bollee's work, revealing a sense of complexity and conflict of life in the contrast of the chaotic graffiti context. See more of Bollee's work here.
Michael Cutlip
Sharing a similar experience to Basquiat of being exposed to artistic endeavors at a young age, Michael Cutlip's work is heavily influenced by graffiti and street art, demonstrating a view of metropolitan life through an abstract lens. As a mix media artist, Cutlip presents collage elements on his paintings, effortlessly balancing the relationship between color and texture through the skillful manipulation of paint and paper. See more of Michael's work here.
Linda O'Neill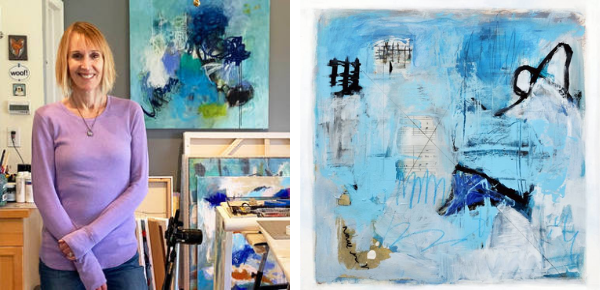 Abstract Expressionist artist Linda O'Neill communicates her therapeutic artistic practice with multi-layered colors, shapes, and lines. In a staggering layered overlay, Linda paints with intuitive brushstrokes in an attempt to heal the viewer and herself. Being surrounded by nature, Linda's painting is a combination of pure abstraction of the natural landscape and a flourishing vigorous emotional expression. See more of Linda's work here.
Love reading about all things art? You can have articles from Canvas, curated collections, and stories about emerging artists delivered straight to your inbox. Sign up for the Saatchi Art Newsletter.
Source: saatchiart.com