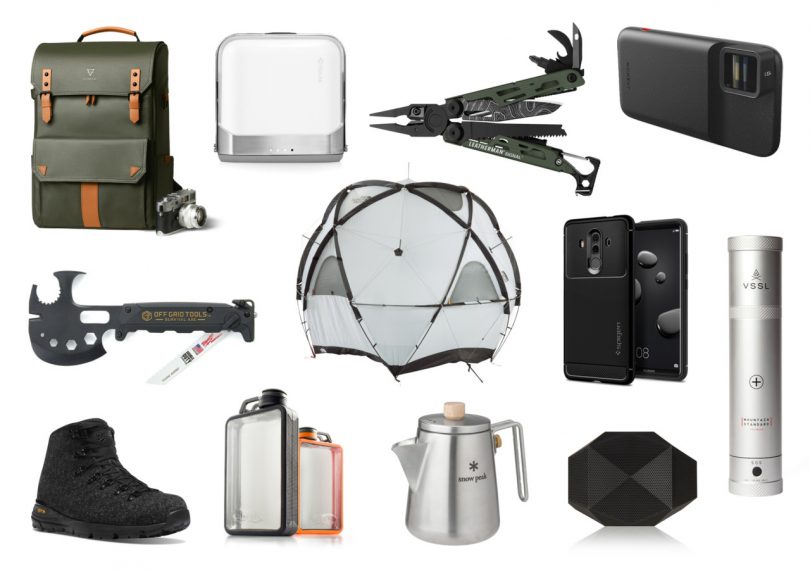 Attribute it to the long hours required behind a computer monitor: many within the design industry harbor a strong affinity for getting away to the great outdoors. Maybe it's because camping and hiking feeds into the designer's proclivity for problem solving, but all within a wholly different context introduced by the elements. Thankfully, the outdoor gear industry has evolved beyond the purely functional options that once defined the category, with a wide selection of stylish outdoor gear designed for adventure…magnified with adventurous design. Here are some of our current favorites:
Limited Edition Leatherman Signal: If there's one tool everyone should have in their backpack, car/truck, and at home, it's a Leatherman. The Signal is one of their most lightweight, all-in-one solutions, outfitted with 10 built-in tools and covered by a 25-year warranty. Their new limited edition green Signal embellished with topographic detailing is as sharp looking as its blade.
The North Face Geodome 4 Tent: Here's a tent Buckminster Fuller would have appreciated for its integration of geodesic design into functional use. The North Face Geodome 4 might take up a modest amount of footprint, but it creates enough space for four occupants to stay outside the elements, with enough height in its center for standing up, and the structural strength to endure up to 60mph winds. Too bad it's a Japan-only design for now.
Danner Mountain 600 Hiking Boots: We like Danner's newest summer hiking boots for their breathable textile upper and beefy, yet more than sufficiently cushioned Virbam midsole. Together, the combination is a lot more sleek and sneaker-like than the oversized silhouette of most hiking boots (also available in a women's model), providing a more comfortable footwear for spring-to-summer trailblazing.
Moment Filmmaker Collection: Mobile imaging specialists Moment aims to do for video what they've now long done for photography: upgrade the built-in capabilities of the smartphone ever closer to professional levels. Their latest collection is engineered to capture cinema-style footage with a  1.33x anamorphic lens, resulting in an extra-wide 2:40:1 Cinemascope aspect ratio with a proclivity to produce J.J. Abrams-stye lens flares. In partnership with iPhone, Galaxy, or Pixel device, Moment's newly designed wireless-enabled battery photo case, gimbal counterweight, and filter mount might become the standard for mobile videographers looking to pack light and lean.
Mountain Standard x VSSL First Aid Kit: Multi-purpose gear is always preferable while hiking or camping, making this 14 ounce, 9″ L x 2″ D anodized aluminum, water-resistant LED flashlight (with both static and SOS beam modes) a particularly clever design: inside its hollow handle hides a small cache of first aid gear for those "glad we came prepared" moments. The small built-in compass adds a third essential you won't have to pack separately. Keep one in the backpack, one in the car.
GSI Boulder Flask: Ultralight backpacking is traditionally associated with packing and carrying "essentials". How one defines an essential is up for interpretation, but we hardly believe anyone would hold it against you for bringing along your favorite spirits to share at camp inside one of these ruggedized, shatter-resistant hip flask.
Snow Peak Field Barista Kettle and Coffee Dripper: While the bumper flask noted above may help take off the edge in the evenings, Japanese adventure outfitters Snow Peak have morning wake-up calls covered with their stainless steel 3-piece coffee preparation set. The Field Barista collection of kettle, coffee dripper, and grinder (each sold separately) is best for car camping/base camp duties, smoothing out the mornings while roughing it.
OGT Survival Axe with Milwaukee Sawzall: Visions of the apocalyptic and The Walking Dead are definitely present here, but OGT's small multi-purpose hand axe handles mundane tasks like chopping wood, hammering tent stakes, and prying crossbow bolts from zombie appendages with equal competence. Pull one out to use and you'll be greeted with "whoa"…start using it and you'll hear "wow!".
Vinta Modern Traveler Backpack Kit: Backpacks are a necessity for anyone used to hauling cameras and lenses while traveling, but they can often miss the mark in the style department. Vinta Supply Co.'s Modern Traveler Type-II backpack is functionally adept – allowing up to 2 camera bodies, 5 lenses, a tripod, and an assortment of cords and cables to reside safely tucked within its twill waterproof exterior – but it also thankfully lives up to its modernist aesthetic moniker; a clean, structured military gear aesthetic that looks less R.E.I. and more A.P.C.
Huawei Mate 10 Pro + Spigen Case Rugged Armor: The Mate 10 Pro's Dual Leica optics outfitted f/1.6 lenses scored an impressive DxOMark Mobile score of 97 points (only recently bested by the mobile manufacturer's flagship, P20 Pro), making it a legitimate argument for leaving the camera at home and traveling light with just a smartphone as a primary shooter. Leica's legendary optics give the Mate 10 Pro the distinction as one of the best mobile photography devices, one easily slid into a pocket or backpack while hiking. Spigen makes a particularly rugged protective case with matte black and carbon fiber detailing intended to keep the Android-powered Mate 10 Pro protected if/when dropped.
Outdoor Tech Turtle Shell 3.0: Outdoor Tech is now on their third iteration of their geometric-faceted portable Bluetooth speaker design, an outdoor audio speaker that has improved with every update. With its 3600 mAh battery+20 hour playback capacity, a fully IPX7 waterproof case (it even floats), and long reaching 32 feet wireless range, the Turtle Shell 3.0 doesn't have to ever leave home to be appreciated for its plenty loud wireless audio capabilities.
BioLite BaseLantern XL Bluetooth Lantern & XL Power Hub: After our last power outage, we recognized what a smart move it was to keep a few rechargeable LED lanterns ready. We watched as our nearby neighbors fumbled in the dark with only their phones to keep them company. BioLite specializes in a range of LED lanterns, solar panels, portables stoves, and gear charging batteries intended for off-the-grid camping duty, but they all work equally well as emergency preparedness gear. The BaseLantern XL is the company's large, bright, and efficient rechargeable light source (putting out 500 lumens), with the addition of two USB ports tapping a whopping 12000mAh battery designed to recharge smaller devices when power isn't available (including your neighbors' phones).

Source: design-milk