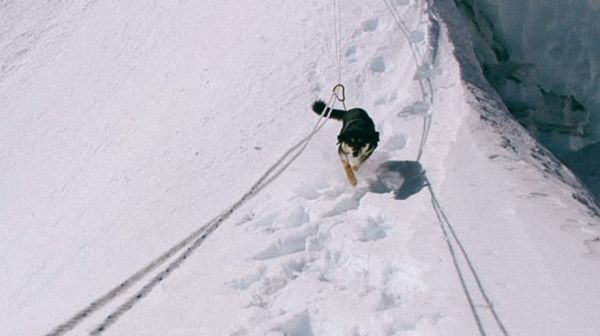 It would be animal abuse to take your dog mountain climbing in Nepal. This is not that kind of story. An expedition to climb the summit of Baruntse, a 23,389-foot peak, found themselves in the company of a 45-pound stray dog that appeared to be a cross between a Tibetan mastiff and a Himalayan sheepdog. At each base camp, the team tried to leave her behind, but she always caught up with them, and became the first dog to reach the summit of Baruntse.
Mera embedded with a team from the Kathmandu-based Summit Climb, led by Seattle-based mountain guide Don Wargowsky, in the tenth day of its monthlong expedition. The group had seen her a few days before in the Nepalese town of Kare, but she seemed aloof. The team members were descending from a successful summit of Mera Peak (21,247 feet), the first mountain they had climbed on their trip before heading to Baruntse, and were just above the fixed lines at around 17,500 feet when Mera (you can see how the humans decided on her name) came bounding toward them. She passed about 30 climbers on the way up, all of whom could've been persuaded to give her food or attention, but she crossed a glacier with a crevasse and beelined it for Wargowsky.

From that point on, the two were inseparable. He gave her a sleeping pad and jacket for a bed nest, and in return she fashioned herself into the ideal tent partner for three weeks: quiet, cuddly, agreeable, and with a small stomach. "One morning we got wind so bad it ripped the anchors off the tent, picked it up, and moved it a few feet," Wargowsky recalls. "She just woke up, looked at me, and went back to sleep."

Mera very quickly became the team's mascot.
In the end, only one of Wargowsky's clients made it to the summit, along with Wargowsky, the Sherpas, and Mera. Read about the extraordinary dog at Outside Online. Read Don Wargowsky's personal account of Mera's climb here. -via Metafilter
(Image credit: Don Wargowsky)
Source: neatorama