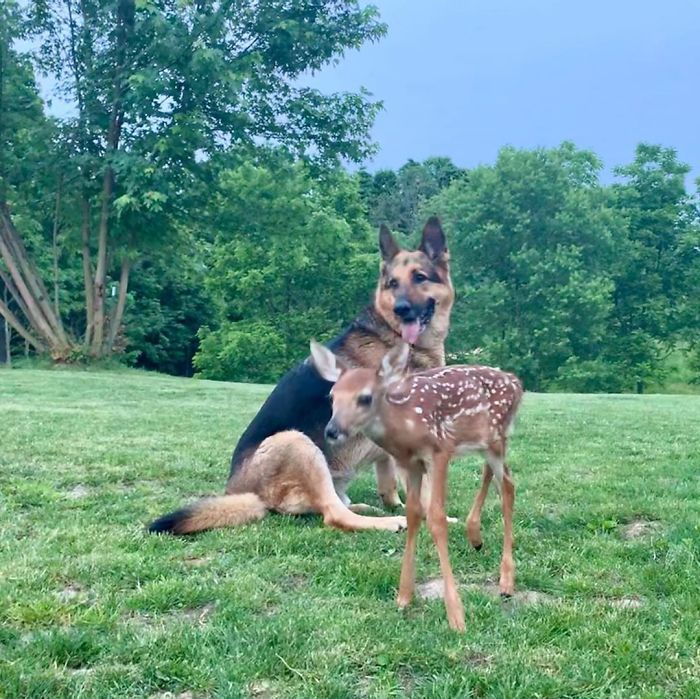 Cheryl Stephen knew what she had to do when she saw the orphaned fawn lying in the middle of the road: she will take care of the deer at her home. What she wasn't sure, however, was how Sarge, her 9-year-old German shepherd, would react when he saw the deer. Much to her surprise, Sarge immediately stepped in to be the deer's temporary babysitter. And so began the happy days of Sarge and Buckwheat the deer.
In an interview with The Dodo, Cheryl Stephen, Sarge's mom said;
"Something clicked in Sarge and he took to Buckwheat instantly," "He wanted to be involved with every aspect of Buckwheat's care." "He took on the role of being Buckwheat's guardian," she added. "None of the other dogs were allowed near the baby."
After a time, Buckwheat was released back to the wild, but it wasn't the end to Sarge's deer-raising days.
Sarge's exceptional rehabilitation skills became of the talk of the town on the local area by the time Buckwheat was released back into the wild and Sarge's mom Cheryl was the go-to-person anytime someone came across an orphaned or injured deer.
After learning about his compassionate side his owners have now started regularly introducing him to animals who have come upon hard times. Most often these are fawns, or baby deer, who have found themselves in need of extra care. This is Sarge's job and it clearly makes him proud!
Very wholesome.
(Image Credit: Dogs Addict)
Source: neatorama