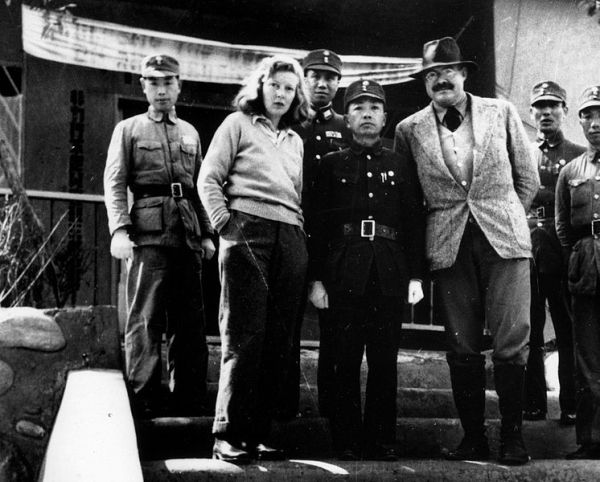 Martha Gellhorn was a war correspondent reporting from the Spanish Civil War in 1939 when she fell in with another correspondent named Ernest Hemingway. The couple moved to Cuba and Gellhorn eventually became Hemingway's third wife. But while Hemingway expected Gellhorn to become a 1940s wife and stay home, Gellhorn continued covering conflicts in far away places. He eventually resorted to undermining her career by snagging the sole press credential from her employer to cover the D-Day invasion. Determined to be where the action is, Gellhorn talked her way onto a hospital ship and locked herself in a bathroom overnight. When she emerged, the invasion was underway.
Amid this otherworldly chaos, no longer caring about personal or professional consequences, Gellhorn learned that her hands—any hands—were needed. The vessel she had stowed away on by chance was the first hospital ship to arrive at the battle. When landing craft pulled alongside, she fetched food and bandages, water and coffee, and helped interpret where she could. When night fell, she went ashore at Omaha Beach with a handful of doctors and medics—not as a journalist but as a stretcher bearer— flinging herself into icy surf that brimmed with corpses, following just behind the minesweepers to recover the wounded.

All night she labored, with blisters on her hands, her mind and heart seared with images of pain and death she would never forget. Later she would learn that everyone of the hundreds of credentialed journalists, including her husband, sat poised behind her in the Channel with binoculars, never making it to shore. Hemingway's story soon appeared in Collier's alongside hers, with top billing and more dazzle, but the truth had already been written on the sand. There were 160,000 men on that beach and one woman. Gellhorn.
Hemingway soon met wife #4, and Gellhorn continued covering wars up to her 80s. Read the story of Martha Gellhorn's fascinating life and her relationship with Hemingway at Town and Country magazine. -via Digg
Source: neatorama