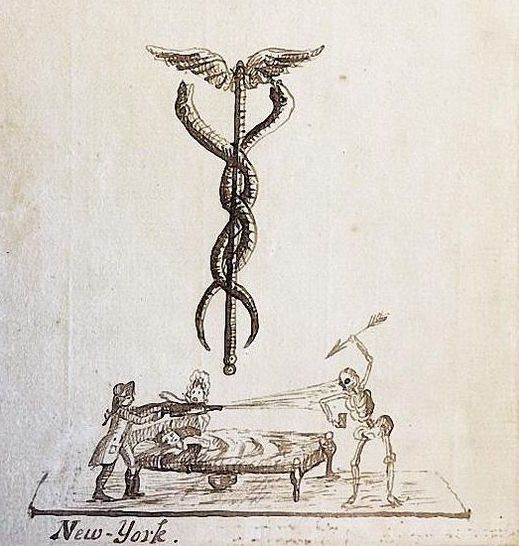 You've read plenty about COVID-19 and what it did to New York City in early 2020. We've also posted quite a bit about the 1918 influenza pandemic and the Black Death. But disease epidemics strike somewhere in every era. New York was the scene of a yellow fever outbreak in 1795 and again in 1798. Alexander Anderson was a 20-year-old medical student from Manhattan who was drafted into the fight against the fever in its first wave, and came to be the first doctor at Bellevue Hospital. Anderson kept a diary of his work, when around 700 New York City residents died. His diary continued into the second wave, when he was a certified physician and a family man.  
Anderson abandoned that record-keeping on September 4 when a friend arrived at Bellevue to tell him that his wife was sick with the fever; on the following day, his father came to the hospital to say that Sandy's brother John had fallen ill as well.

For a few days Anderson tried to care for everyone—his wife in Bushwick and the rest of his relations downtown, plus dozens of Bellevue patients. Then, on September 8: "A heavy blow!—I saw my Brother this morning and entertain'd hopes of his recovery. In the afternoon I found him dead!" Yet he could not rest to grieve. "I left my poor parents struggling with their fate and return'd to Belle-vue." Before setting aside the diary that day, he paused to sketch a small coffin next to the entry.

His father died on September 12. Anderson sketched another coffin next to the entry. In Bushwick, he found his wife in a shocking condition: "The sight of my wife ghastly and emaciated, constantly coughing & spitting struck me with horror." She died on September 13; he drew another coffin. His mother, the final member of his immediate family, took ill on the 16th and died on the 21st; another coffin. "I never shall look upon her like again," he wrote.
Get a glimpse of the yellow fever epidemic that caused Anderson to give up medicine for good at Smithsonian.
(Image credit: Alexander Anderson Papers/New-York Historical Society Library)
Source: neatorama