Achilles Bertoni was a wealthy ba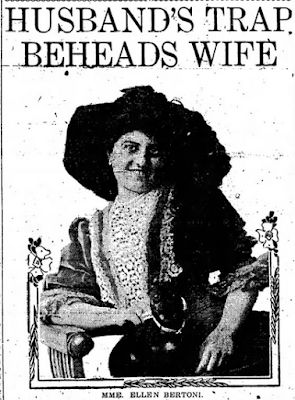 nker in Rome. In 1907, he found out that his business partner Adolphus Zerbati, who was engaged to Bertoni's sister, was having an affair with Bertoni's wife! He headed to Zerbati's home to confront him, but on the way he got a better idea.
Alongside the private road leading through a grove of trees near Zerbati's villa Bertoni spotted a steel wire attached to a wooden post, perhaps the remnant of a long-forgotten fence. After calculating the height of Zerbati's convertible, the banker stretched the cable across the road and fastened the other end to a tree. Later that afternoon the lovers left the villa, and Zerbati and his passenger got into the roadster and raced down the private driveway. They struck the wire at a high rate of speed, the steel separating their heads from their bodies like a guillotine. The automobile veered off the road, down an embankment, and overturned, tossing the mangled occupants into the woods.
Read the details that led up to the gruesome act of revenge, and the fallout afterward, at the Journal of the Bizarre. -via Strange Company

Source: neatorama