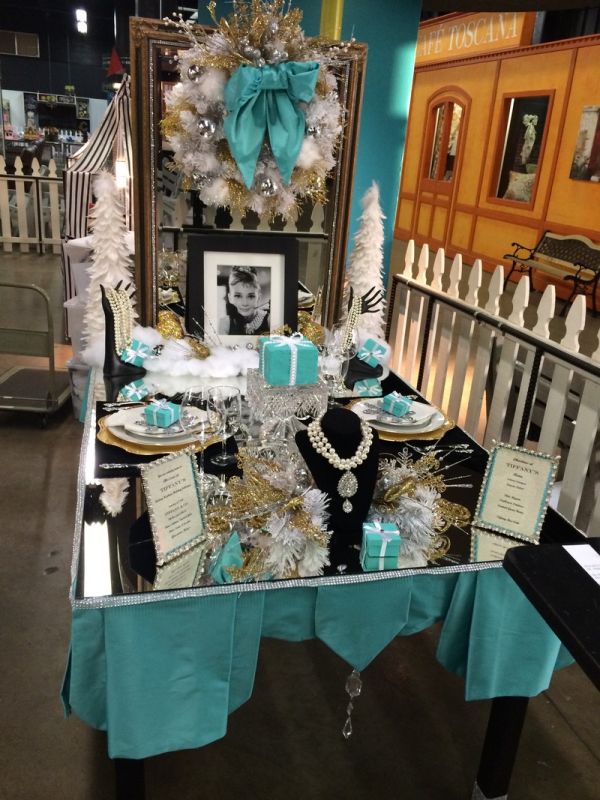 Proving once again that humans will make a competition out of any activity at all, consider competitive table-setting. Known as tablescaping, it's a staple of many county fairs, and has been a annual event at the L.A. County Fair since the 1930s. Tables are judged for both precision and creativity, and can be amazingly elaborate. Bonnie Overman has been competing at the L.A. fair since 1997, and has won First Place and Best in Show several times.
There was the Gone With the Wind themed table for which she crafted a pair of faux-glass doors from two picture frames, through which you could see Scarlett racing across the grounds of Tara, and draped them in green velvet curtains. (That one scored Best in Show.) There was the Pirates of the Caribbean table for which she made three skeleton pirates, one of which was crawling through a porthole. There was the Wicked table for which she hacked together a Wicked Witch figurine from a Halloween skeleton, witch's mask and costume wig, made bubbling green goo from felt, glued sequins onto a pair of tiny heels, and sewed taffeta flocking to the tablecloth in order to mimic costumes from the Broadway musical. The centerpiece was an aquarium castle painted to look like the Emerald City. (Overman has a penchant for filmic themes.) Tablescaping rules state that the milieu must also have a corresponding fictional menu; for Wicked, Overman dreamed up an all-green dinner that included pea soup and green apple pie.
Read about tablescaping competitions at Atlas Obscura.
(Image credit: courtesy of Bonnie Overman)
Source: neatorama