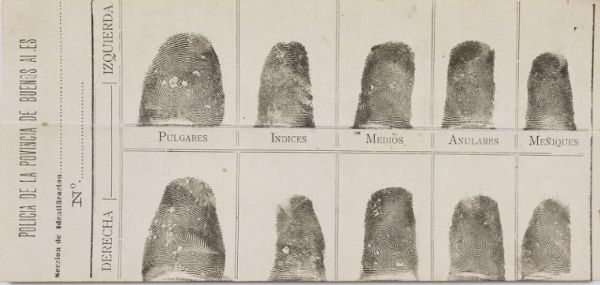 In June of 1892, Ponciano Caraballo found his 6-year-old son and 4-year-old daughter dead, their throats slit, at their home in Argentina. His wife's throat was also slit, but she survived to tell the tale. Or two.
Francisca, who had been married to Ponciano for four years, told the police that she and her children had been attacked by their neighbour, agricultural labourer Ramón Velázquez. He had tried to seduce her and when she'd refused, he had threatened to kill them all. She later changed her testimony and stated that Velázquez had been attempting to take her children away from her, on behalf of her husband, from whom she was estranged. Whatever the reason for the attack, Ramón Velázquez was arrested on suspicion of murder.

As was customary at the time, the police used torture to elicit a confession from the accused. Velázquez was subjected to several brutal beatings, and forced to spend a night locked in with the children's bodies. It is also alleged that a police officer dressed up as a ghost one night to scare the prisoner into confessing. Despite the violent and intimidating interrogations, Velázquez refused to confess and professed his innocence throughout. Unsure of what to do next, the local police requested help from the force in the provincial capital, La Plata, and Inspector Eduardo Álvarez was sent to Neocochea to investigate.
As you can probably guess from that setup, and having read or watched a few murder mysteries in your time, the eyewitness account is suspicious and Velázquez was innocent. Read how investigators from La Plata, Argentina, solved the crime at Victorian Supersleuth. -via Strange Company
Source: neatorama