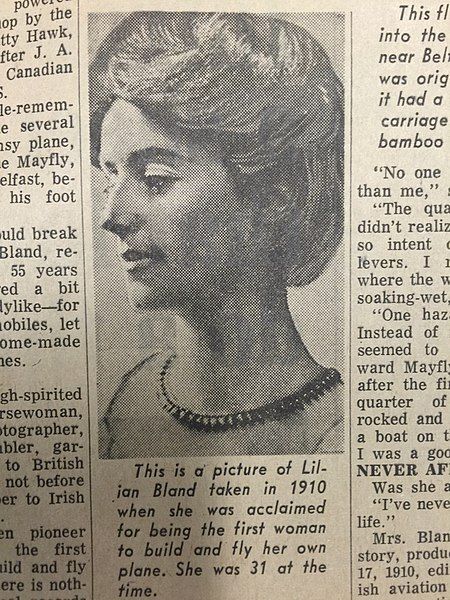 There's a lot that can be said on how people selectively celebrate and remember certain points in history. In many cases, women and their discoveries and accomplishments go unnoticed. Lilian Bland is one of those unique women forgotten or ignored. Bland was the first woman to design, build, and fly her own plane. She designed the Mayfly, an aircraft that could successfully fly short distances with or without an engine. Her forgotten story makes us ask, why are women like her who are innovators and intelligent beings remain obscured? Historian Dr. Bettany Hughes explained that a lot of women we remember and are part of recorded history are there because they are portrayed as highly sexu in alized, as Jalopnik detailed:
She goes on further to add: A lot of the women that we think of, like Cleopatra and Helen of Troy, one of the reasons their stories have lasted is that they are portrayed as highly sexualized. They are exciting, but the danger of their influence has also become a warped morality tale; we remember them as creatures who draw men towards their beds and towards their death.
Often women aren't allowed to be characters in history, they have to be stereotypes. Cleopatra was a poet and a philosopher, she was incredibly good at maths; she wasn't that much of a looker. But when we think of her, we think: big breasted seductress bathing in milk. Often, even when women have made their mark and they are remembered by history, we are offered a fantasy version of their lives.
In other cases, history is more likely to remember tragedy. Amelia Earhart was the first woman to cross the Atlantic Ocean, but as I've shown through the history of women in racing, being the first or best woman to do something doesn't necessarily guarantee your place in the stories we tell decades later. Do we remember Earhart as an investor? One of the heirs to her grandmother's fortune? Do we remember the details of her flights that weren't record breaking or the cause of her death? Often, we don't.
Image via Wikimedia Commons
Source: neatorama