From Superman flying across the ocean to Spider-man swinging through Manhattan, the dynamism inherent in comics has always been central to the artform. Maybe it's a bit strange that a medium all about high-octane action and fast-paced adventure would be grounded in static images, but the depiction of movement in comics has puzzled, challenged, and helped elevate artists from the beginning. In this week's episode of the mini-comics masterclass Strip Panel Naked, host Hass Otsmane-Elhaou talks with one of the greatest action artists currently working in comics, Tradd Moore. The episode focuses on a two-page spread he illustrated for "Ghost Rider #1," written by Felipe Smith, with colors by Val Staples.
The comic's double page spread, Ghostrider (that famous flaming skull once played by Nicolas Cage) drives around while a time-travelling, lightning-based villain named Pyston Nitro skateboards around him shooting off guns. For this action-heavy sequence Moore explains that he wanted to show everything, every exciting bit of action. "I want to see the windup and the pitch," he explains to Otsmane-Elhaou in the video. This means showing the fast-moving Nitro in a series of repeating images.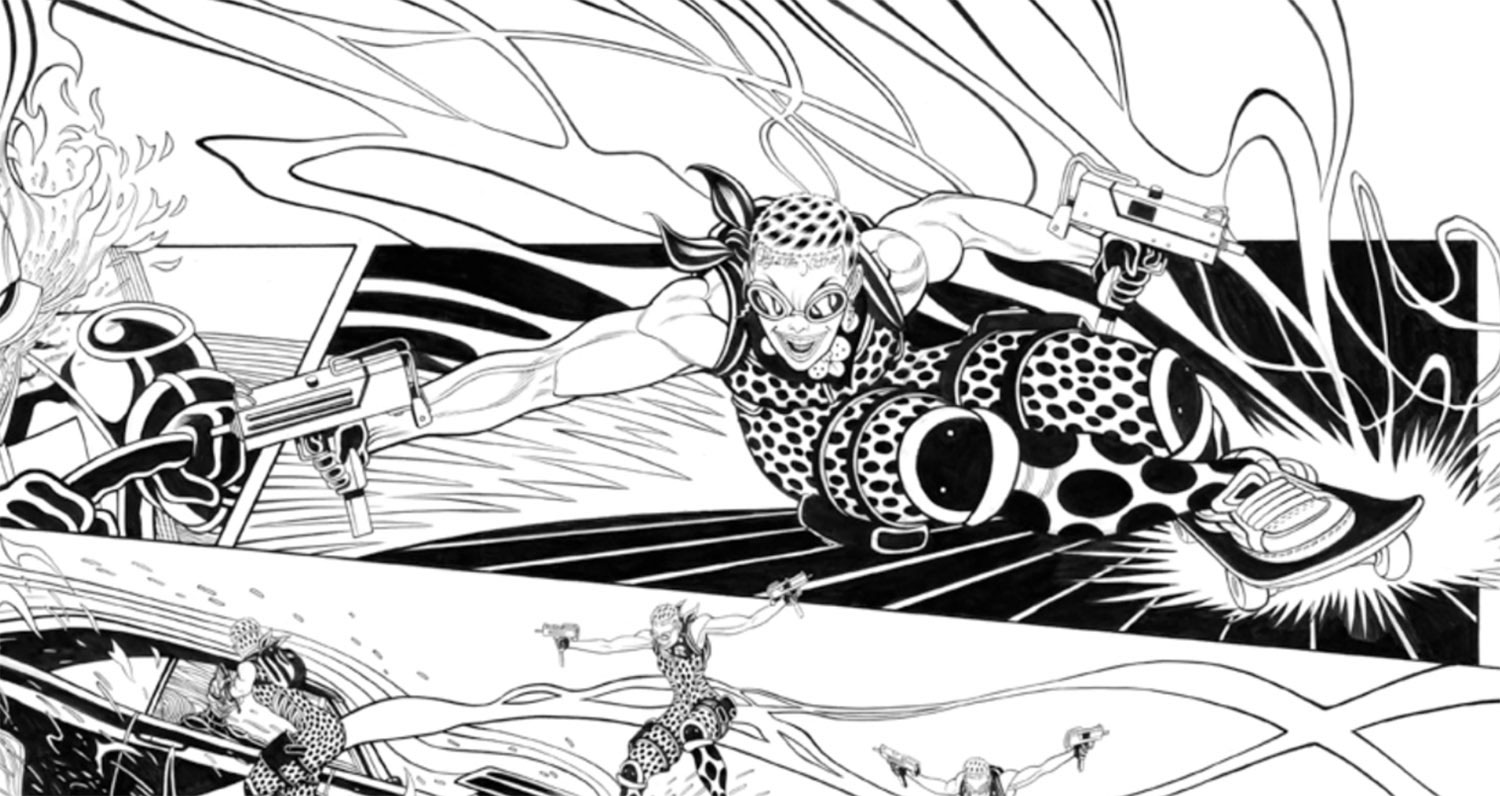 It also means breaking out of the traditional panel border structure. "I'm not saying that you have to break panel borders to tap into some sort of visual bombast or power," qualifies Moore, "but basically if you can use something like that to really make something exciting, I say use it." The conversation moves on to talk about how he works with the writer and color artist to the best of their abilities, "It is a waste of everyone's time to not use the strengths of the people that you're working with."
To see the full conversation, and a detailed breakdown of the page, watch the full video below:
To see more, visit the Strip Panel Naked YouTube page, and check out its Patreon page to support the series.
Related:
Why 'Superman' Had One of the Best Introductions in Comics

With Subtle Background Design, This Comic Grounds Itself
Break Your Comic's Rigid Structure and Save Its Fluidity
Source: vice.com