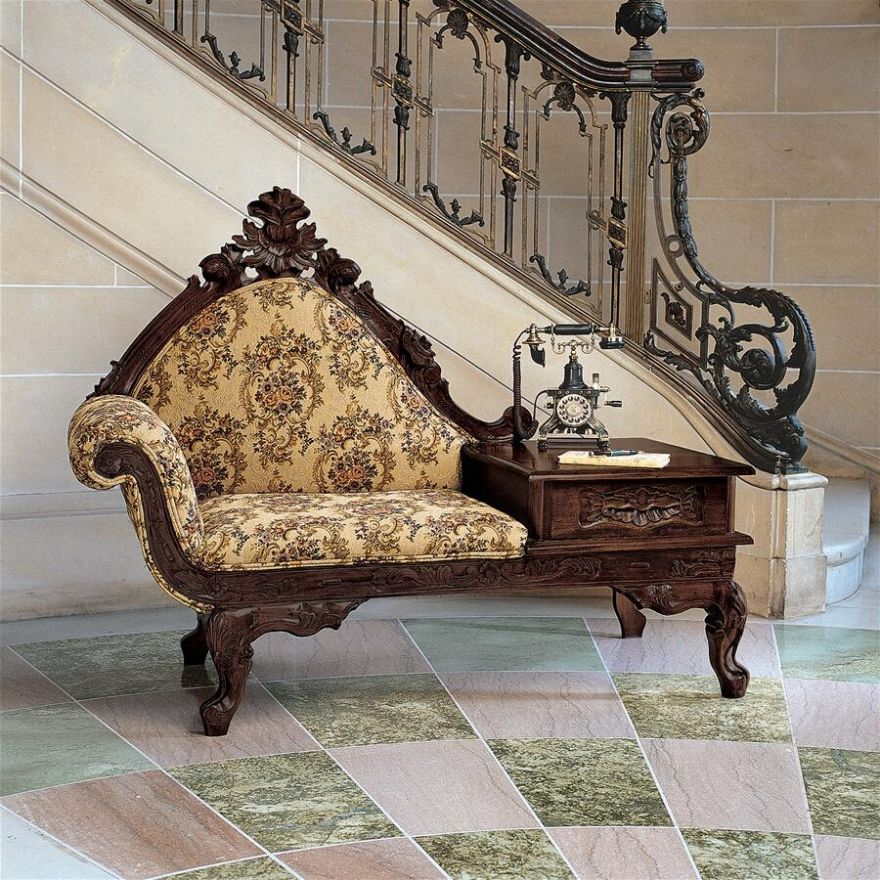 If you're making a phone call about a specific topic and need to get down to business, then you can complete your call while standing up.
But if you're fishing for the latest, um, news about life in the neighborhood and have some to share, then it might take some time. You'll need to sit down and get comfortable. That's why furniture makers produced "gossip benches" during the first half of the Twentieth Century.
[The object on the right side of the photo is, believe it or not, a telephone. Since I just had to explain that to my kids, I figured that I might need to so here, too.]
The Design Elements, an antiques magazine, describes the development of this furniture concept:
Many home builders began incorporating a small shelf in a wall of the house, usually in a hallway, where the phone could reside. It was then only a matter of time before some enterprising person saw the need to create a unique and functional piece of furniture made specifically for the telephone, as well to accommodate the user as he or talked to friends and family.
With a place for the phone on top and a shelf or drawer for the telephone book, telephone tables, also known as gossip benches, became very popular […]
I don't think that I've ever seen a gossip bench, but my grandmother's house had a nook built into the kitchen for a phone, a stack of telephone books, and a stool. There was work to be done on the farm, so gossip had to be completed expeditiously.
Image: Toscano
Source: neatorama