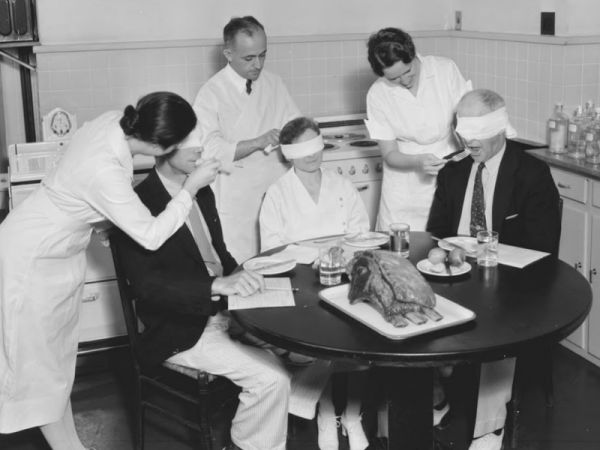 At the beginning of the 20th century, farmers grew crops and raised livestock the way their families always had, and sold their produce to market with hopes that people would buy it. The U.S. Bureau of Home Economics, a division of the USDA, wanted to boost agriculture by improving the taste of the foods those farmers produced, so they experimented with livestock to find the best way to raise tasty meat, and experimented in the kitchen to find the best ways to prepare the meat. That involved extensive taste tests. Lucy Alexander, the USDA's "chief poultry cook," was one of the testers and had, over a couple of decades, "tasted and tested the left hind legs of more than 2,300 lambs." But it wasn't just anyone who could be a taste tester.
The taste testers that Alexander enlisted were a mix of USDA secretaries, executives, and lab workers whom Alexander had selected to take an afternoon off their regular work in order to spend it, blindfolded, tasting dozens of different meats. Numbering around 20 in all, they were chosen because they were exceptionally familiar with whichever type of food the Bureau of Home Economics was testing that day. One 1937 consumer guide published by the USDA noted that, "if the aim is to find the better of two methods of making jelly, then judges are persons acquainted with standards of jelly excellence."

Even for subject matter experts, the Bureau held a careful vetting process to establish who made the cut. According the Asbury Park Evening Press, taste testers first had to go through a USDA employee named Nicholas G. Barbella, who fed them sucrose, salt, caffeine and tartaric acid in order to elicit their reactions to the "four primary taste sensations." If Barbella judged that their taste sensations were "not too sensitive, not too dull," they would be approved for the job.
Read about the Bureau of Home Economics and the lengths they went to in order to boost the flavor of US foods at Smithsonian.
Source: neatorama