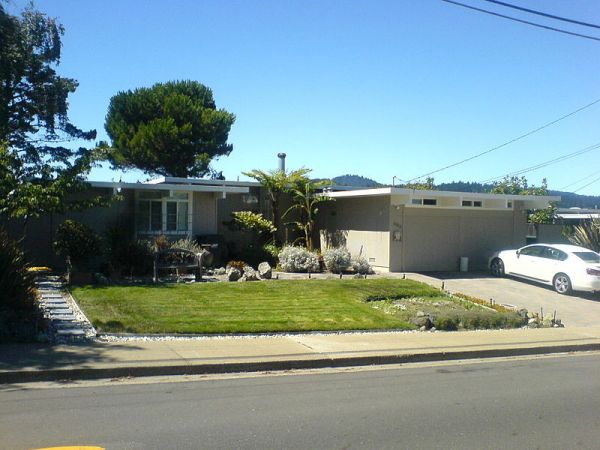 The following article is from the book Uncle John's Bathroom Reader Plunges into California.
It wasn't everybody's idea of home sweet home, but it was the right house at the right time for thousands of West Coast families after World War II.
MASTER BUILDER IN THE MAKING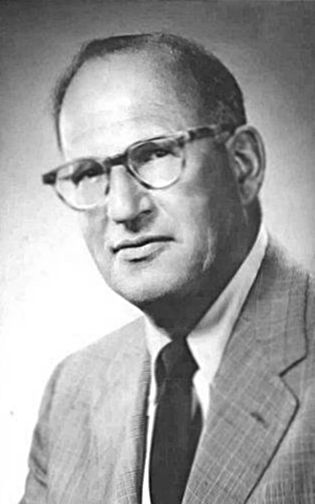 All Joe Eichler wanted to do was build some low-cost housing for World War II veterans and their families: small, ranch-style homes with basic amenities. What he ended up with were stylish, iconic homes that are still in demand today. The reason? Eichler, though he didn't know it at first, was a modern man in every way. For one thing, he was an equal-opportunity builder who opened the doors of his houses to people of all races and colors, a pretty daring prospect in the pre–civil rights era. If someone wanted to buy one of his houses, all they had to do was come up with the down payment (anywhere from $500 to $2,650) and qualify for a mortgage.
In fact, the only colors Eichler cared about were the colors of his houses. His son Ned tells the story of how his father, while cruising through one of his developments, called a halt to a house-painting job because the color the owners had chosen didn't look right with the colors of the houses on either side of it. The house-painter told Eichler that the owners really wanted that particular color and added, "After all, it's their house." Eichler said, "Like hell it is. It's my house. Change the g**damn color."
Eichler started his business—Eichler Homes—in 1947. He bought some land in Northern California and built his first subdivision: a planned community of conventional-looking little boxes with cramped rooms, wood floors, Sheetrock walls, and forced-air heat. When an outspoken architect from San Francisco told Eichler the houses were "crap," the builder reluctantly agreed. So he challenged his architect, Robert Anshen, to design a stylish house that would appeal to young families and would still be affordable. Anshen came up with the first in a series of open, airy contemporary houses that Eichler eventually became famous for: a house that was perfectly suited to the California climate and lifestyle.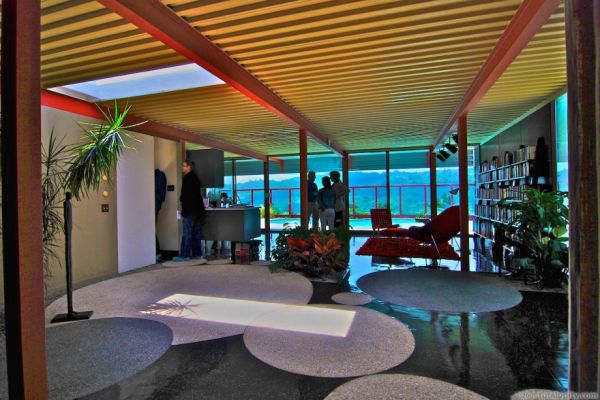 (Image credit: Flickr user thomasfj)
Those first homes were built in 1949 in Sunnyvale, 40 miles south of San Francisco. Anshen's plan called for the siding to be upgraded to redwood, but the exteriors of the 50 ranch-style houses were otherwise unremarkable—they looked square and utilitarian. The interiors were another story. Inspired by homes Frank Lloyd Wright had designed in the Bay Area in the 1930s, the interiors were exceptionally modern for suburban houses of their time. Gone were the chopped-up floor plans and teensy rooms. In their place was a redwood-paneled living area with an open floor plan that made the houses seem much bigger than the 1,044 to 1,230 square feet they actually were. The floor-to-ceiling glass walls on the rear facade made the homes feel even larger and seemed to bring the outdoors in. The house was set on radiant-heated concrete floors, and all of it could be yours (or your grandparents') for just $9,500 (about $90,000 today).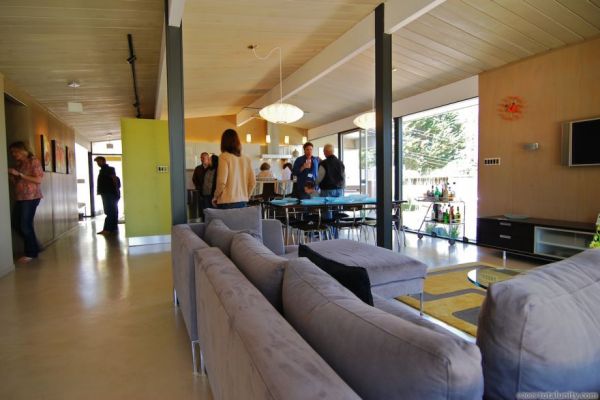 (Image credit: Flickr user thomasfj)
Eichler's houses evolved over the next eight years: By 1957 most of them had four bedrooms, two baths, and a family room and, depending on the model, sold for $18,000 to $25,000 ($144,000 to $200,000 today). But the exteriors changed only slightly: taking advantage of the relatively warm, snowless winters, the roof stayed either flat or low-pitched, and the floor-to-ceiling glass at the back of the house remained standard so that homeowners could take in the view, even if it was only of a fenced-in suburban patio and garden.
THE BALL IS IN YOUR COURTYARD
The recession of 1957–58 hit most businesses hard, and home sales were no exception. Joe and Ned Eichler met with their architects for weeks, trying to figure out how to attract more customers and save their languishing business. As one of their many meetings was about to close, Anshen once again saved the day. He showed Eichler a scribbled floor plan of a house built around a small courtyard. When Eichler asked, "What… is that thing in the middle?" Anshen said, "An atrium. The Romans used to use them."
Adding an atrium made no sense to Eichler; in fact, it seemed counterproductive. Not only would it add more building costs—and three or four more exterior walls—but what good was a courtyard in the middle of a house? Despite misgivings, he built a model based on Anshen's idea. And after a few tweaks, they found they had a winner.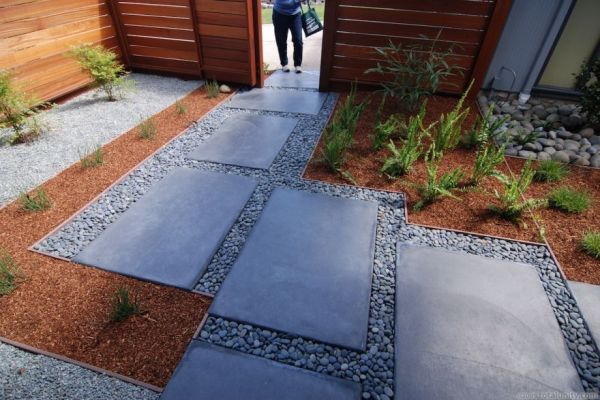 (Image credit: Flickr user thomasfj)
From the street, an Eichler with an atrium looked the same as the previous models: angular and nondescript. But now, when prospective buyers opened the front door, they were greeted by an open-to-the-sky atrium; glass doors on the other three walls looked into the kitchen, living room, or bedroom wing. The houses were a huge success. Nearly every Eichler from then on was built around an open-air courtyard. The company went public in 1959 and continued to earn steady profits, building about 700 houses a year, and expanding into Southern California. But change was on the way, and it didn't bode well for Eichler Homes.
WHAT KILLED THE EICHLER?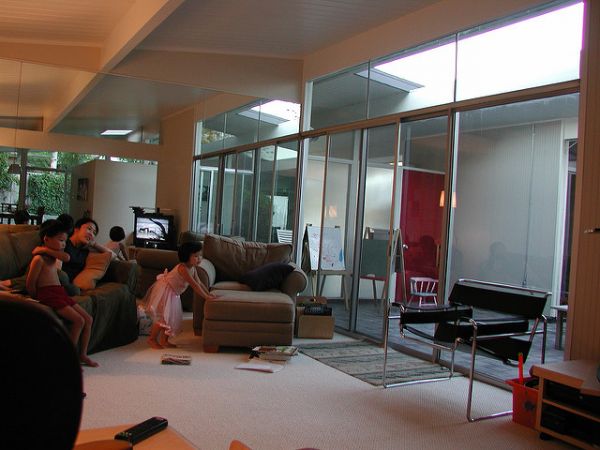 (Image credit:larryncelia)
A variety of factors contributed to the bankruptcy of Eichler Homes in 1967: the growing expense of glass and redwood, competition in the marketplace, and the high cost of air-conditioning a house with an open floor plan and huge walls of glass. Also, some young couples who'd bought Eichlers as starter homes had more money by the '60s and no longer wanted tract housing; they were looking for something more unique. But perhaps the most important factor was simply that the classic Eichler home had gone out of style.
After the bankruptcy, Joe Eichler built a few more custom and tract homes, but another recession in 1973 did him in. He died in 1974.
Decades later, however, the houses that Eichler built are more popular than ever. Even in the depressed real estate market of the late 2000s, Eichler homes were selling for $600,000 and up—and often for more than their asking price.
___________________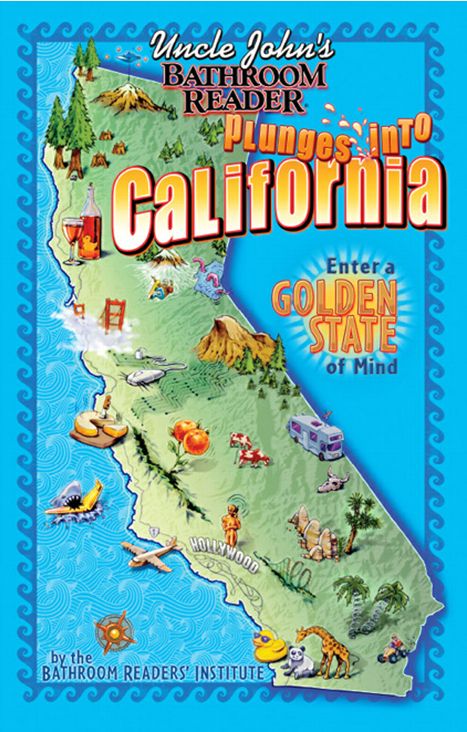 The article above was reprinted with permission from Uncle John's Bathroom Reader Plunges into California. This volume brings you stories of the Golden State you've never heard before. You'll meet child prodigies, spies, traitors, celebrities (and sidekicks), gossips, hermits, humanitarians, and zealots.
Since 1988, the Bathroom Reader Institute had published a series of popular books containing irresistible bits of trivia and obscure yet fascinating facts. If you like Neatorama, you'll love the Bathroom Reader Institute's books – go ahead and check 'em out!
Source: neatorama